Australia's Stevens Asks if Policy Has Reached Its Limits
by
Average spread drops to 15 basis points, matching 12-year low

Trend is for `more tightening,' says Mitsubishi UFJ Kokusai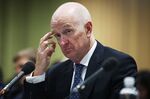 Australia's states are enjoying close to the strongest demand for their debt on record, even as they struggle to adapt to slowing global economic growth.
Australian provincial bonds on average yielded as little as 2.34 percent last week, near the record low of 2.25 percent reached in April 2015. The difference over an index of federal securities shrank to 15 basis points, matching the lowest in 12 years. Iron ore production hub Western Australia, whose debt rating was cut one step to Aa2 by Moody's Investors Service in February, sold A$1.1 billion ($857.9 million) of six-year debt on Tuesday.
State securities returned 2.7 percent in the past year, versus 1.8 percent for central government bonds, as investors in Japan and Europe fled negative-yielding sovereign debt in their own countries. Moody's said in December that states' efforts to cut deficits could be impeded by waning revenue growth due to a China-led global economic slowdown. The rating company said the outlook may improve if it sees growth in manufacturing, education and tourism.

"Even if the spread has tightened a lot, they still have high yields compared to federal government securities," said Hideo Shimomura, the chief fund investor in Tokyo at Mitsubishi UFJ Kokusai Asset Management, which oversees $110 billion. "State governments are becoming better at balancing their budgets than the federal government. The trend is for more tightening."
The yield on Queensland's bonds due in 2026, the benchmark for the nation's largest state borrower, has tumbled to 3.06 percent from 3.50 percent at the close of 2015. The spread over government securities narrowed to 48 basis points last week, the smallest amount since the bond was sold in October.
Reserve Bank of Australia Governor Glenn Stevens is supporting the bond market by holding the benchmark interest rate at a record low of 2 percent to cope with the unwinding of a decade-long mining boom and support consumption.
Queensland has A$85.9 billion of debt, and New South Wales has the second most with A$56.9 billion, according to data compiled by Bloomberg. The figures compare to the federal government's A$417.2 billion of debt, the data show.
Third Biggest
Western Australia, the third-biggest state debtor with A$38.9 billion, had its rating cut as a global selloff in metal and energy prices curtail revenue, though the reduction wasn't enough to deter investors from buying the state's new bonds.
Capital Asset Management in Tokyo said it likes state bonds, including those of New South Wales and Queensland, even though they can be tougher to trade than the sovereign debt.
"We don't need the high liquidity" of Commonwealth debt, said Toshifumi Sugimoto, the chief investment officer, who has 30 years of experience in bonds. "We're a long-term investor. Everybody's looking for higher yields."
Before it's here, it's on the Bloomberg Terminal.
LEARN MORE