U.K. House Prices Hit Record as Landlords Spark Chain Reaction
by
Homeowners move up housing ladder amid demand for buy-to-lets

London prices languish as homebuyers search for affordability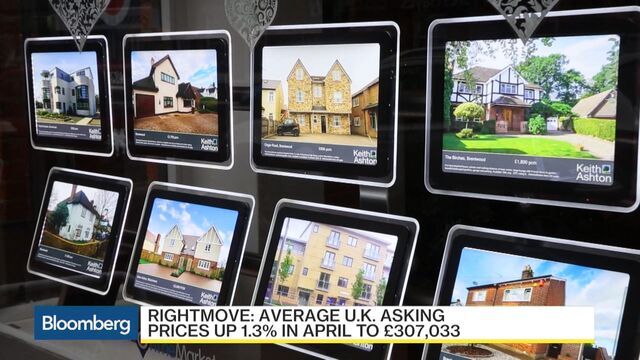 U.K. house prices climbed to a record in April as demand from landlords in the previous month created knock-on effects through the property market, according to Rightmove Plc.
Average asking prices rose 1.3 percent from March to 307,033 pounds ($437,000), the property website operator said in a report published Monday. It left values 7.3 percent higher than a year earlier.
The increase came as many homeowners traded up to larger properties after selling to buy-to-let investors eager to complete transactions before a tax hike on second homes took effect on April 1. Chancellor of the Exchequer George Osborne introduced the 3 percentage-point surcharge amid fears landlords were pushing house prices beyond the reach of first-time buyers.
"Many of those who sold during the buy-to-let rush were actually first-time buyers looking to trade up," said Rightmove Director Miles Shipside. "They used the heightened demand from investors competing fiercely with first-time buyers to springboard themselves onto the next rung of the housing ladder."
The strongest monthly performance was seen in the East Midlands, where prices rose by 3.6 percent. Values climbed by 1.5 percent in the east of England and by 2 percent in the southeast. That's partly because homebuyers are looking for property outside London, where asking prices are more than double the national average. London prices rose just 0.3 percent.
The shift outside the capital is "due to a huge surge in demand as buyers seek more affordable locations within easy reach of London," said Robert Chamberlain, sales manager at estate agency Leaders, which operates in the east of England. "We expect buyer demand to remain exceptionally high as the ripple effect continues to spread across the east."
---
Explore Housing Prices in London

Before it's here, it's on the Bloomberg Terminal.
LEARN MORE