Photographer: Akos Stiller/Bloomberg
The Trucker's Nightmare That Could Flatten Europe's Economy
Three decades of borderless travel at risk with new checks — permanent curbs could cost 470 billion euros over 10 years.
By , , and
Peering through his rain-lashed windshield, Zoltan Unczorg alternates edgily between the brake and the gas pedal of his 18-wheeler. "It's very tiring," the sturdy Hungarian complains as he crawls along in a line of vehicles approaching the Austria-Germany border.
After more than eight hours carrying fan parts, Unczorg has no more patience for delays. And this day was better than usual. He's had to endure waits of about four hours at this checkpoint, set up last September to hunt for migrants on the A3 highway near the German city of Passau. It's a route he plies daily for electric-motor maker EBM-Papst Group. 
"The worst was last summer, when migrants were walking on the highway heading for Germany," he says. "It was too dangerous to drive quickly, you could hit them by accident."

What infuriates Unczorg may herald a sea change for Europe's economy, business and even society: the erosion of a decades-old system that has allowed borderless travel across 26 countries. Bringing back widespread controls would be a blow for the most visible - or invisible - victory in the 60-year quest for a united Europe, conceived in the rubble of World War II. Free movement in what is called the Schengen area, for the town in Luxembourg where the treaty was signed, took over where bunkers and artillery stood on the Franco-German border and guard towers and barbed wire defined the Iron Curtain between eastern and western Europe.
Now, Germany, Austria, France and Sweden, among others, have reintroduced border checkpoints in some places. They are pressured by Europe's biggest refugee crisis since World War II - about 1 million migrants arrived in Greece and Italy in 2015 - terrorist attacks, and the growth of anti-immigration movements. But the economic cost of dumping Schengen, at a time when growth across the continent is still weak, would be massive.

A permanent return to border controls could lop 470 billion euros ($530 billion) of gross domestic product growth from the European economy over the next 10 years, based on a relatively conservative assumption of costs, according to research published by Germany's Bertelsmann Foundation. That's like losing a company almost the size of BMW AG every year for a decade.
QuickTake Europe's Refugee Crisis
The open borders power an economy of more than 400 million people, with 24 million business trips and 57 million cross-border freight transfers happening every year, the European Parliament says. Firms in Germany's industrial heartland rely on elaborate, just-in-time supply chains that take advantage of lower costs in Hungary and Poland. French supermarket chains are supplied with fresh produce that speeds north from Spain and Portugal. And trans-national commutes have become commonplace since Europeans can easily choose to, say, live in Belgium and work in France.
For many Europeans, passport-free travel is part of being, simply, European. For the company hiring driver Unczorg, the security checks increase costs in terms of delays, storage and inventory.
Permanent controls would destroy the business model of German industry, says Rainer Hundsdoerfer, chairman of EBM-Papst. 
"You get the products you need for assembly here in Germany just in time," he said by phone. "That's why the trucks go nonstop. They come here, they unload, they load, and off they go. The cost isn't the only prime issue" in reinstating border checks. "It's that we couldn't even do it."

Nor could anyone else, he adds: "Nothing in German industry, regardless of whether it's automotives or appliances or ventilators, could exist without the extended workbenches in eastern Europe." Based in Mulfingen in central Germany, Hundsdoerfer's company has been making electric motors and fans since it was founded in 1963, and has factories in countries including Hungary, Slovakia and the Czech Republic. The parts Unczorg was carrying originated in Tapolca and Celldomolk, Hungary, and traveled more than 800 kilometers (500 miles) before being offloaded in Mulfingen for further manufacturing.
Whether controls are here to stay depends on migrant flows. German Interior Minister Thomas de Maiziere said earlier this month that his country may end passport monitoring on the Austrian border by May 12 if the number of refugees trying to cross remains low, following closer scrutiny along the western Balkans route.
But Austria is considering new checks on the Brenner Pass, a key highway link with northern Italy. Such a barrier would have serious economic and symbolic consequences for Europe, Italian Foreign Minister Paolo Gentiloni said Monday, according to Italian news wire Ansa. Thousands of migrants are expected to cross the Mediterranean, especially from Libya, in coming months. 

The European Union on March 18 reached a deal with Turkey in which some refugees will be sent back to there across the Aegean Sea - although European Union President Donald Tusk says he's hearing concerns about the accord and the new border controls. 
"The deal with Turkey and closing the western Balkans route raised doubts of an ethical nature and also legal as in the case of Turkey," Tusk told the European Parliament in Strasbourg, France, on April 13.
Tusk warned that the bloc would be "unable to prevent political catastrophes" if it failed to stem irregular migration to Europe or restore authority over migration policy. "Here I mean the collapse of Schengen, loss of control over our external borders with all its implications for our security, political chaos in the EU, a widespread feeling of insecurity, and ultimately the triumph of populism and extremism."

The impact of refugee migration is visible at the Austria-Germany checkpoint near Passau. A hut squats in the middle of the two-lane highway and a line of trucks stretches back some six kilometers, exhaust fumes mixing with the stench of manure spread on nearby fields.
Under a large white canvas tent, four police officers search a large gray van. Two are armed with machine guns in addition to their service pistols, under orders issued following the terror attacks on Brussels in March.
"You have no idea how many ways I've seen the smugglers hide people," says Karsten Eberhardt, a police commissioner, as he sits at a picnic table. "If you carve out a hollow space under the seat and put a board in front, you can hide a pretty large person."
The flow of migrants has dwindled since January, when as many as 12,000 reached the checkpoint daily. On the last weekend in March, police in the region found 70 migrants who were being smuggled.
Peter Sonnleitner, head of foreign trade at the chamber of industry and commerce for Lower Bavaria, based in Passau, says several firms in the region have complained about delays but they have so far been "understanding" because transport companies have absorbed most of the extra cost.

Also threatened are the companies whose goods or supplies are being shipped.
German auto-parts manufacturer Continental AG, for instance, has 15 to 20 trucks running across Europe on a typical day. Their longest trips take about 1 1/2 to 2 days and cross multiple borders. If full customs and immigration checks were restored, leading to average waits of four hours at each frontier, that could mean another 160 hours of extra journey time a day across 20 trucks, said supply-chain head Juergen Braunstetter: "Over a year, you can imagine the cost."
The economic costs of more controls might ultimately be manageable, says Michala Marcussen, global head of economics at Societe Generale SA in Paris. Political costs are another matter.
"We've just been through the euro crisis and rebuilding institutions," she said. "It's better to fix Schengen as it shows the capacity to do things. If we were really able to have well-coordinated borders, that would give people confidence we could deal with shocks in the future."
It would certainly ease Unczorg's daily journey through Europe's industrial heartland. "Today isn't too bad," he says as he sluggishly passes the checkpoint, with two more hours to go before another driver takes over to bring the truckload to Mulfingen. "It's rarely like this."
Watch Next: The Brexit Debate - What Happens if the U.K. Leaves the EU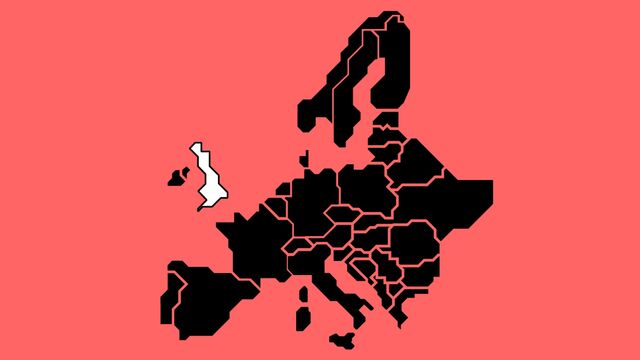 Before it's here, it's on the Bloomberg Terminal.
LEARN MORE