Merkel Feels Heat From Backing Prosecution of Erdogan Satirist
by
Decision draws rebukes from human rights group, coalition ally

German satirist read lewd poem lampooning Turkish president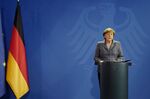 Chancellor Angela Merkel, already weakened by Europe's refugee crisis, came under fire over the weekend for granting a Turkish request to prosecute a German satirist who derided President Recep Tayyip Erdogan.
Merkel took criticism from Germany's Turkish community, opposition leaders, a journalist group and her junior coalition partner after deciding to leave the legal fate of comedian Jan Boehmermann in the hands of the country's courts. Two-thirds of Germans surveyed said her decision was wrong, Bild am Sonntag reported Sunday.
"The German government is passing the buck for protecting free speech to the courts, instead of upholding its own human rights obligations," Hugh Williamson, Europe and Central Asia director at Human Rights Watch, said in a statement. "The government is contributing to the violation of free speech that a potential prosecution would constitute."
The episode, which began with a joke directed at Erdogan on national television last month, lays bare the pitfalls in Germany's dependence on Turkish help to tackle the continent's worst refugee crisis since World War II. Merkel risks further alienating voters after her party's popularity declined in recent months as Germany struggled to handle the more than 1 million refugees who arrived in Europe's biggest economy last year. 
Split Widens
QuickTake Europe's Refugee Crisis
Just 22 percent of 500 people polled by census group Emnid back Merkel's decision, Bild am Sonntag said, with 66 percent responding it was wrong. The decision widened the split in her Christian Democratic-led government, with ministers among the junior-partner Social Democrats dissenting. Merkel made the final decision to advance the probe after failing to win consensus with the SPD.
Merkel's approval rating dropped to the lowest level of this legislative period as a result of her handling of the case, according to a snap poll by Infratest dimap for public broadcaster ARD. In an e-mailed release, ARD said 45 percent of 1,002 respondents said they were happy with the chancellor's work, down from 56 percent in early April. No margin of error was given. Even so, 67 percent of those polled said they thought Merkel's coalition will serve out its term to the fall of 2017.
Law Tested


The furor has centered on Boehmermann, a comedian with public broadcaster ZDF who recited a poem about Erdogan that plumbed the depths of bawdiness in a test of the boundaries of a law protecting foreign heads of state from libel. Merkel says her decision wasn't a prejudgment on the satirist's culpability.
Unlike in the refugee crisis, Merkel is backed by most officials in her party and powerful allies in the Boehmermann case, including Volker Kauder, the parliamentary caucus leader for her CDU party in the lower house, and Bavarian Prime Minister Horst Seehofer.
Merkel "had no alternative" and was right to trust in the German judicial system to show Erdogan that the country's courts are independent, Edo Reents, the culture and arts editor at Axel Springer SE's daily Die Welt, wrote in a commentary.
Merkel also said her government would seek to scrap the law in Germany's criminal code that penalizes individuals who insult a foreign head of state. That may come too late for Boehmermann, who on Saturday wrote on his Facebook page he would take a "short break" from TV. The head of ZDF said the broadcaster would support the satirist in the legal battle "all the way."
Before it's here, it's on the Bloomberg Terminal.
LEARN MORE