Australia Election Looms as Senate Set for Showdown on Bills
by and
Ballot likely as independent senators poised to reject bills

Opinion polls show Turnbull faces fight to retain power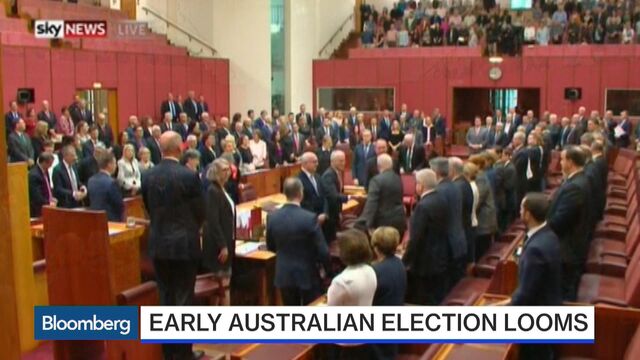 Australia appears headed for an election in July, with the potential defeat as soon as this week of government bills to curb union powers set to give Prime Minister Malcolm Turnbull a constitutional trigger to call a ballot.
Parliament resumes Monday with the upper house considering for a second time legislation to set up a building industry watchdog and a commission to regulate unions. If the bills again fall to pass -- the government needs a group of independent and small party lawmakers to support the changes -- an election is possible as soon as July 2.
An opinion poll pointing to declining popularity for Turnbull's government may be another prompt to call an election soon, in case his standing deteriorates further. Seven months after he took over from Tony Abbott claiming the change was needed due to the government's waning popularity, a Newspoll published in the Australian newspaper Monday shows Turnbull's Liberal-National coalition trailing the Labor opposition on a two-party preferred basis, 49 percent to 51 percent.
Turnbull has said he will call a so-called double dissolution election for July 2 should the industrial relations legislation fail to pass. Should the laws be enacted, a normal election will be held between August and October.
"I certainly won't vote for it in its current form," Senator Glenn Lazarus, the former professional footballer who is among the eight independents, said in an interview on the Australian Broadcasting Corp. on Sunday, speaking of the legislation. "I think Malcolm Turnbull, and his government's popularity, is waning at a rapid rate."
A double-dissolution election hasn't been held since 1987. All 150 seats in the House of Representatives and all 76 Senate seats are up for grabs in such a ballot. In a normal election, only half the Senators from the six states are replaced.
The ruling coalition will seek a vote on the legislation in the upper house in the three-week sitting period from Monday, George Brandis, Australia's attorney-general and leader of the government in the Senate, said in a separate AM Agenda interview.
Tax Perks
"We want to do everything we can to ensure these bills are enacted," Brandis said.
Labor, which has announced plans to cut tax perks for landlords and boost education spending should it win office, has accused Turnbull of policy inaction. The coalition will be looking to regain momentum when it announces its annual budget on May 3.
"We have no concerns about the government's intentions to go to a double-dissolution election if that's what they choose," Labor lawmaker Brendan O'Connor said on AM Agenda.
Cross Benchers
Some of the cross-bench Senators are confident they can retain their positions, even after the government changed the rules to make it harder for independent candidates to be elected.
"I think there's a pretty good chance there'll be a cross bencher in every state," Liberal Democratic Party Senator David Leyonhjelm said. "More Xenophon is a certainty," he said, referring to Senator Nick Xenophon, whose team could win three or four seats in South Australia in a double-dissolution election, according to ABC election analyst Antony Green.
Family First Senator Bob Day, who supports the building watchdog proposals, thinks there may be a backlash over the new voting rules.
"I don't think the Senate voting changes help the government's cause," he said. "There is no such thing as an unloseable election."
Another poll published Monday reaffirmed the government's need to regain traction with voters. The Fairfax-Ipsos poll showed Labor and the coalition locked at 50 percent on the two-party measure, compared with a 53 percent-47 percent lead for the government in a previous poll.
According to the Newspoll, Turnbull still leads Labor's Bill Shorten as preferred prime minister, 47 percent to 28 percent.
Bishop Dumped
The next election won't include former Speaker for the House of Representatives Bronwyn Bishop, who was passed over by the Liberal Party to represent it. The 73-year-old was defeated in a preselection battle by Jason Falinski, who was Turnbull's preferred candidate, the Age newspaper reported Saturday.
Bishop stood down from her role as speaker in August amid controversy over travel expenses, which included a A$5,000 ($3,863) helicopter ride to attend a Liberal fundraiser.
Before it's here, it's on the Bloomberg Terminal.
LEARN MORE