Pope Says 'Good Manners' Behind Brief Encounter With Sanders
by and
A `handshake' as Francis heads to Greece for refugee visit

Democrat traveled to Rome to speak at economic conference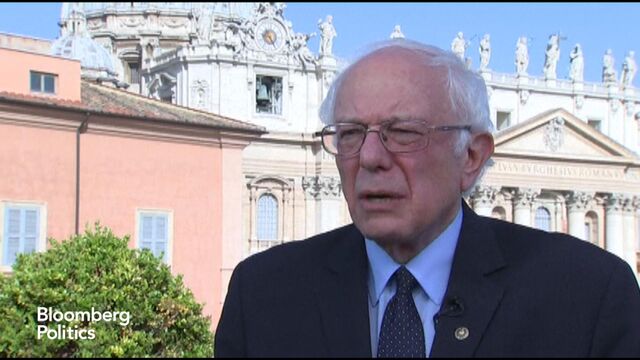 Bernie Sanders repeated again and again that he hoped to meet Pope Francis on his visit to the Vatican. He got the wished-for encounter on Saturday with some help from the pope's aides, but Francis downplayed the event as "a handshake."

"I greeted him and his wife, a handshake and nothing more," Francis told reporters during a flight to Rome from the Greek island of Lesbos, the ANSA news agency reported. "It's called good manners. If someone thinks a greeting means getting mixed up in politics, it's time to look for a psychiatrist."
The Vermont senator and his wife were advised by the pope's staff on Friday night that they would be able to meet Francis at 6 a.m. local time Saturday as the pontiff prepared to depart for a one-day visit to Greece, Michael Briggs, Sanders's communications director, said in an e-mail.
The encounter took place in the reception area of the Domus Santa Marta guest house for visiting clergy and others, where Pope Francis resides. Sanders was an overnight guest after attending a Vatican conference on income inequality on Friday.
The Democratic presidential contender had said the detour to Vatican City, days ahead of the delegate-rich New York primary, was not political. Still, any association with the popular pontiff could theoretically boost support among Catholic voters, including Latinos, who so far have heavily favored former Secretary of State Hillary Clinton. Sanders is the Brooklyn-born son of Jewish immigrants from Poland.
Recent opinion polls in New York ahead of Tuesday's state primary election show Clinton ahead by 14 points, 53 percent to 39 percent, according to an average compiled by RealClearPolitics.
'Extraordinary Work'
Sanders told reporters earlier that he was honored to have met the pope and appreciated Francis's message about the need to inject morality and justice into the world economy.
"I just conveyed to him my admiration for the extraordinary work he is doing raising some of the most important issues facing our planet, and the billions of people on the planet, and injecting the need for morality in the global economy," Sanders told ABC News.
Sanders and several family members traveled to Rome after Thursday night's debate with Clinton.
During his short speech on Friday, entitled "The Urgency of a Moral Economy," Sanders targeted "financial criminality" on Wall Street, "reckless financial deregulation" in the U.S., and quoted Francis's denunciation of the "worship of the golden calf."
New York Vote
As recently as Friday it seemed that Sanders would not manage to secure a meeting with the pope, leader of the world's 1.25 billion Roman Catholics. He returned to the U.S. on Saturday and will hold a round-table meeting with civil rights activists Al Sharpton and Cornel West.
The Vatican is typically loath to become entangled in domestic political issues. The pope brushed up against the politics of this year's election through criticism of anti-immigrant policies embraced by Republican candidates. He drew notice in February with his response to a journalist's question about Republican Donald Trump's proposal to build a wall along the U.S. border with Mexico.
"A person who thinks only about building walls, wherever they may be, and not building bridges, is not Christian," the pope said. He demurred when asked if Catholics should vote for Trump.
During Francis's visit to Washington in 2015, a furor developed after an aide arranged a meeting between the pope and Kim Davis, the Kentucky clerk who spent time in jail for refusing to issue marriage licenses to same-sex couples after a U.S. Supreme Court decision legalizing such unions nationwide.
Before it's here, it's on the Bloomberg Terminal.
LEARN MORE