Doha Oil-Freeze Talks Delayed to Address Saudi-Iran Differences
by , , and
Producers discuss capping output at January level to Oct. 1

General agreement is in place amid talks over wording: Ecuador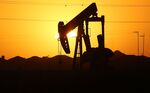 Talks in Doha between some of the world's biggest oil producers on freezing production have been delayed until later Sunday amid changes to the wording of the agreement, in part to address differences between Saudi Arabia and Iran.
"The general agreement is in place," Wilson Pastor, Ecuador's governor to OPEC, said in a Bloomberg Television interview in Doha. "Now there is some disagreement on the wording and maybe this afternoon we are going to finish," he said, adding that details on the monitoring of the agreement and a follow-up meeting were also to be finalized.
Sixteen nations representing about half the world's oil output have gathered in the Qatari capital in a bid to stabilize the global market. On April 14, Saudi Arabia's Deputy Crown Prince said the nation wouldn't agree to restrain its production unless other producers, including Iran, agree to freeze. Iran, which isn't attending the meeting, has ruled out joining the accord for now.
Crude oil has rallied since the freeze was first mooted in February. If the group were to fail to reach an agreement it would lead to a "severe" drop in prices, Citigroup Inc. predicted before the meeting. Brent crude settled at $43.10 a barrel Friday in London, having risen by more than 50 percent from a 12-year low in January.
Iran Production


"Discussions are at a very high level between the Saudis, Russians and Gulf countries," over Iran's output, said Pastor.
The Persian nation is restoring exports after sanctions over its nuclear program were lifted in January. It plans to boost output to 4 million barrels a day in the Iranian year through March 2017, Oil Minister Bijan Namdar Zanganeh said April 6. That would be an increase of about 800,000 barrels a day from March production. Iran's crude shipments have risen by more than 600,000 barrels a day this month, according to shipping data compiled by Bloomberg.
Ministers held informal closed-door talks earlier Sunday, according to two officials with knowledge of the meeting. Delegates visited the palace of the Emir of Qatar and begin talks when they return, said another person with knowledge of the situation.
Everybody is "optimistic," Kuwait's Acting Oil Minister Anas al-Saleh said before the meeting, adding that a deal would "hopefully happen." Saudi Arabia and Russia have approved the proposal to freeze crude output at January levels until Oct. 1 and other producers are expected to do so, Omani Oil Minister Mohammed Al Rumhy said prior to the meeting.
Saudi Position
Saudi Arabia, the world's biggest crude exporter, would cap its market share at about 10.3 million to 10.4 million barrels a day, if other producers agreed to the freeze, Prince Mohammed bin Salman said during an interview April 14 at King Salman's private farm in Diriyah. Iran's oil minister, Bijan Namdar Zanganeh, said Saturday he won't attend the Doha talks and won't be a signatory to any deal as it would amount to self-imposed sanctions on the country which is restoring crude production after the removal of a ban on its shipments.

"If all major producers don't freeze production, we will not freeze production," said Prince Mohammed, 30, who has emerged as Saudi Arabia's leading economic force. "If we don't freeze, then we will sell at any opportunity we get."
Russian Outlook
The freeze agreement has no enforcement mechanism, Oman's Al Rumhy said, though he said he expects everyone to stick to it. The pact is open for other producers to join, he said.
The meeting in Doha is only relevant if no deal is reached, prompting a sharp sell-off in the markets, according to Ed Morse, head of commodities research at Citigroup Inc.
The recent rebound in oil futures suggests that the 20-month sell-off could be hitting a bottom, amid efforts to reduce the supply glut, OPEC Secretary General Abdulla El-Badri said in a statement posted on Saturday on the website of the International Monetary Fund.
Before it's here, it's on the Bloomberg Terminal.
LEARN MORE