Saudi Arabia's Post-Oil Plan Starts April 25, Prince Says
by and
Vision to include plan for Aramco, Public Investment Fund

Prince Mohammed bin Salman spoke in a Bloomberg interview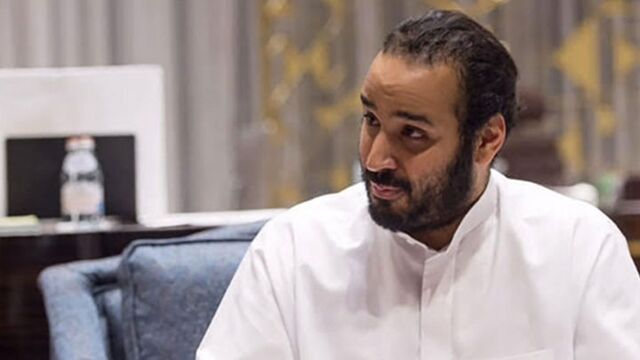 Saudi Arabia will announce a comprehensive plan to prepare the kingdom for the post-oil era on April 25, Deputy Crown Prince Mohammed bin Salman said.
The "Vision for the Kingdom of Saudi Arabia" will encompass several developmental, economic, social and other programs, Prince Mohammed said in an interview on Thursday at King Salman's private farm in Diriyah, the original home of the Al Saud royal family.

One component of the plan is the National Transformation Program, which will be launched a month or 45 days after this month's announcement, said the prince, who is the king's son and second-in-line to the throne of the world's top oil exporter. The plan to transform Saudi Aramco from an oil company into an energy and industrial conglomerate, as well as the future of the Public Investment Fund, will also be part of the comprehensive vision, he said.
Saudi Arabia is seeking to overhaul the economy to reduce the kingdom's reliance on oil after the plunge in crude prices. Prince Mohammed said in an interview late last month that the plan involves raising non-oil revenue by $100 billion by 2020 as well as turning the PIF into the world's largest sovereign wealth fund for the kingdom's most prized assets.
Saudi authorities are weighing measures that include more steps to restructure subsidies, imposing a value-added tax, and a levy on energy and sugary drinks as well as luxury items. The National Transformation Program will also focus on ways to boost economic growth, create jobs, attract investors and hold government offices more accountable.
Prince Mohammed, who is leading the biggest shake-up of the economy since Saudi Arabia's founding, oversees the Council for Economic and Development Affairs, which includes the country's finance, oil and economy ministries. The council, established after his father became king, also controls the PIF.
Past rulers have avoided relying on the public for additional revenue for fear of triggering a backlash from one of the world's most conservative societies. Government spending, jobs and subsidies have typically been the engine of economic growth.
The prince said last month that Saudi Arabia will sell less than 5 percent of Aramco's parent in an initial public offering that could happen as early as next year. The company will be transferred to the PIF, which will "technically make investments the source of Saudi government revenue, not oil," the prince said in the earlier interview.
The fund will then play a major role in the economy, investing at home and abroad. The PIF ultimately plans to increase the proportion of foreign investments to 50 percent of the fund by 2020 from 5 percent now, excluding Aramco.
Before it's here, it's on the Bloomberg Terminal.
LEARN MORE