U.S. Stocks Retreat on Energy Slump as S&P 500 Trims Weekly Gain
by
Apple drops after report of further production cut on iPhone

Financials led S&P 500 higher this week after bank earnings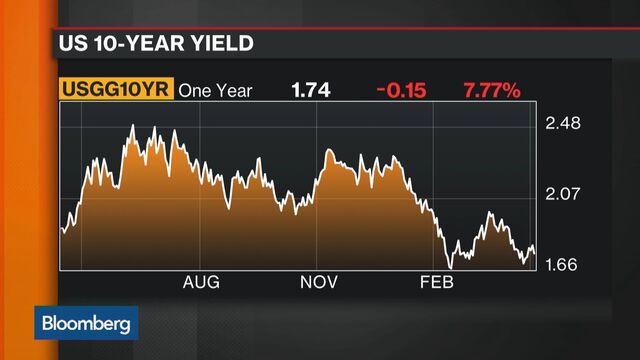 U.S. stocks fell on the final day of a week in which the Standard & Poor's 500 Index reached the highest level in four months, as technology shares joined energy producers in a decline.
The S&P 500 dropped 0.1 percent to 2,080.73 at 4 p.m. in New York, with the gauge posting a weekly advance of 1.6 percent. The Dow Jones Industrial Average declined 29 points, or 0.2 percent, to 17,897.46 on Friday.
Equities extended defines in the afternoon as Apple Inc. dropped 2 percent after slower-than-expected sales of the iPhone 6S and 6S Plus prompted the company to reduce its orders, the Nikkei Asian Review reported, citing unidentified suppliers. Technology stocks fell as Apple suppliers including Broadcom Ltd., Qorvo Inc., Knowles Corp. and NXP Semiconductors NV also declined on the report. Energy companies halted a three-day gain as crude retreated before major suppliers meet in Doha this weekend to discuss an output freeze.
"We've had a nice week. We're starting to see more week-to-week trading over the past few months and on Fridays, people take off some risk before the weekend," said Joe "JJ" Kinahan, chief strategist at TD Ameritrade Holding Corp. "The nice thing about earnings so far is that CEOs have not struck a negative tone and that was one of the fears, especially given what we've seen in the last two quarters."
Financial firms have led the rise in American equities this week, with the S&P 500 closing near its highest level since Dec. 4. JPMorgan Chase & Co. and Bank of America Corp. climbed after announcing reductions in first-quarter expenses that beat analysts' estimates. Citigroup declined 0.1 after reporting first-quarter profit that topped projections. 
Analysts have slashed profit estimates for S&P 500 members since January, and they're now projecting a 10 percent decline in net income for the first quarter. Investors are also watching economic releases, after comments by Fed Chair Janet Yellen reaffirmed officials won't rush to raise interest rates. Traders are pricing in zero chance of a raise at the end of April, with December now the first month with even odds of higher borrowing costs.
Index futures fluctuated after a report showed factory output unexpectedly declined last month by the most since February 2015, while separate data revealed manufacturing in the New York region expanded this month. Equities remained little changed after consumer confidence unexpectedly fell in April to the weakest level in seven months
The S&P 500 has rebounded 14 percent since its February low, putting the seven-year bull market weeks away from becoming the second-longest in history. Some investors attribute the gains to short squeezes, with a Goldman Sachs Group Inc. gauge of the 50 most-shorted stocks near its highest level of the year.
Among stocks moving on corporate news, Cablevision Systems Corp. advanced 1.9 after the New York Post reported the deal with Altice NV is nearing New York City approval, citing someone close with the matter.
Regions Financial Corp. climbed 3.1 percent after reporting first-quarter profit that exceeded analysts' estimates by 1 cent.
Ariad Pharmaceuticals Inc. added 4.6 percent after saying a study of its medicine brigatinib for some lung cancers showed one year survival rates of 100 percent.
Fannie Mae fell 14 percent, paring a weekly jump of 29 percent, while Freddie Mac dropped 12 percent, while posting a rally this week of 26 percent. The mortgage giants had a federal appellate review today. Fairholme Funds and Perry Capital LLC have challenged the lawfulness of the so-called "net worth sweep".
Before it's here, it's on the Bloomberg Terminal.
LEARN MORE