Tesla's Musk Gets $37,584 Salary, New CFO $21 Million, in 2015
by and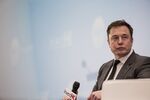 Tesla Motors Inc. reported new compensation for Chief Executive Officer Elon Musk of $37,584 last year, according to a filing Friday. That doesn't include 5.27 million stock options he received in 2012 that were intended to compensate him for 10 years, according to a filing at the time.
Meanwhile, new Chief Financial Officer Jason Wheeler received almost $21 million, mostly in stock option awards. Wheeler joined Tesla from Google Inc. in November. Of Wheeler's $20.9 million in compensation, only $46,154 was in salary.
JB Straubel, the company's chief technology officer, got $250,560 in salary while Doug Field, Tesla's vice president of engineering, received a $306,923 salary and $2,808,785 in stock awards, the company said in its proxy statement.
A Tesla spokesman didn't immediately respond to an e-mail seeking comment.
Before it's here, it's on the Bloomberg Terminal.
LEARN MORE