Superhero Jessica Jones Storms the Streets of New York
In a new podcast, Bloomberg and Vulture chat with TV and film creators working on location in NYC.
Bloomberg News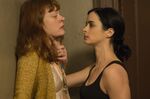 Subscribe to the City of Scenes podcast on iTunes
Subscribe to the City of Scenes podcast on Pocket Casts
Shooting the exploits of a Marvel superhero on the streets of New York poses its challenges. This is the world of Jessica Jones, the new Netflix series based on the Alias comic books. Unlike Batman and Daredevil, Jessica doesn't wear a mask. So the star, Krysten Ritter, had to do a lot of her own stunt work, like jumping onto a real subway track, while battling her lethal foes.
"Man, Ritter just went for it. She is fearless, that woman," says producer and writer Melissa Rosenberg, who wrote for Dexter and helped adapt the Twilight series for the screen. "We didn't fake anything."
Here, Rosenberg talks with Bloomberg Associates' Katherine Oliver (@kolivernyc) and Vulture's Stacey Wilson Hunt (@GalinHollywood) for The City of Scenes, a podcast featuring television and film creators working on location in New York, as the Tribeca Film Festival celebrates its 15th year.
Soon after Netflix picked up Jessica Jones, it became clear that the worlds of Marvel and Gotham were too intertwined to shoot anywhere but New York. The stories, told from Jessica's point of view, are always "grounded in the streets," Rosenberg says. A generous state tax credit program sweetened the deal.
"New York is an incredibly busy town right now, which makes it more challenging to find great crews, because everybody is working," Rosenberg says. More than 45 television productions and 300 films a year are shot in the city.
In season one, Rosenberg had to shoot on brutally cold January and February nights and bear up under injuries to Ritter and her multiple stunt doubles. That's nothing compared to what she gets out of working on location in New York, she says, including a highly diverse talent pool. And the cast and crew get to work in some of the city's most beautiful apartments, thanks to the high-tone character of Kilgrave. Rosenberg finds herself so drawn to the locations the team finds that she winds up writing to fit them.
For much of her career, Rosenberg was "the only woman in the writing room, and always lower-level (read: cheaper)," she says. "And my agent would hear things from show runners when they would pitch me, like 'Oh, we already have a woman.' "
Today, she runs the writer's room, already hard at work on season two, which goes into production in 2017.
Before it's here, it's on the Bloomberg Terminal.
LEARN MORE