Ripped From Headlines, Brazil's Crisis Becomes a Netflix Series
by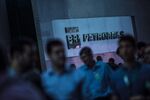 Brazilians will be able to relive their country's political upheaval next year, when Netflix Inc. plans to release a dramatization of the bribery probe that has become known as the Carwash scandal.
Jose Padilha, the director of the Brazilian blockbuster "Elite Squad," will create and direct the series. Padilha directed the first two episodes of "Narcos," Netflix's English-language series about two federal agents' pursuit of notorious Colombian drug dealer Pablo Escobar.
The two-year Carwash investigation, which targeted corruption at state-run oil company Petrobras, has ensnared top business and political figures, most recently targeting senior-ranked members of the ruling Workers' Party.
Brazil is Netflix's largest market after three English-speaking countries: the U.S., Canada and the U.K., according to data from research firm Ampere Analysis. Netflix had 2.9 million subscribers in the South American nation as of the end of 2015. The Carwash show, which doesn't yet have a title, will be Netflix's second produced in the region, with sci-fi thriller "3%" debuting later this year.
While Netflix struggled in Latin America at first due to issues with payments and lower broadband Internet adoption, the company has since touted its growth in the region.
"If I think about Brazil, we were pretty weak in the first year and now it's a rocket ship," Chief Executive Officer Reed Hastings said on a call with analysts last July.
Before it's here, it's on the Bloomberg Terminal.
LEARN MORE