Police Fire Tear Gas at Protesters in Republic of Macedonia
by and
Parliament Speaker signs decree setting snap vote on June 5

President Ivanov rejects proposal to reconsider pardon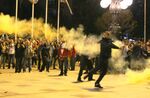 Police fired tear gas and stun grenades to disperse thousands of protesters in the Republic of Macedonia on the third day of demonstrations that started after President Gjorge Ivanov pardoned politicians and others involved in a wiretapping scandal.
Five police officers were injured in clashes with protesters late Thursday in the capital Skopje, according to the Interior Ministry. Demonstrators, who are expected to continue rallies on Friday, demanded Ivanov's resignation, a halt in the organization of an early election scheduled for June 5 and the appointment of a government of experts that will prepare fair, democratic and credible vote. They also demanded that police release the 13 protesters arrested Wednesday.
The wiretapping scandal broke out a year ago in the former Yugoslav state, leading to the Jan. 15 resignation of former Prime Minister Nikola Gruevski. He's now pushing for a June 5 snap election aimed at ending the worst political crisis in a decade, but he's been met by calls for a boycott by the opposition who say it won't be free. The former government has denied allegations raised by the alleged wiretaps that purported to show abuse of power by officials, including Gruevski.
Pardon Stays
Ivanov rejected proposals by the ruling parties and the opposition to reconsider his decision to pardon politicians and others involved in the wire tapping scandal on grounds that the judicial system is placed under great pressure from all political groups ahead of the election and its fairness may be compromised, he said on Friday in a statement on his website. Those officials covered by the pardon, who want to prove their innocence in court, may request its cancellation individually, according to the statement.
The European Union and the U.S. have voiced concerns whether a credible election is possible after the pardon.
Parliament Speaker Trajko Veljanoski signed a decree on Friday scheduling the early election for June 5, according to parliament's website.
"I trust that all involved in the election process will contribute to holding peaceful and democratic elections," Veljanoski said in the statement.
The leader of the opposition Social Democratic Union Zoran Zaev said his party won't take part in the ballot, accusing Gruevski of blocking reforms that would ensure fair campaigning and election.
Before it's here, it's on the Bloomberg Terminal.
LEARN MORE