North Korean Missile Launch Fails on Founder's Birthday
by
Failed missile may have been Musudan capable of reaching Guam

Launch comes months after North Korea's fourth nuclear test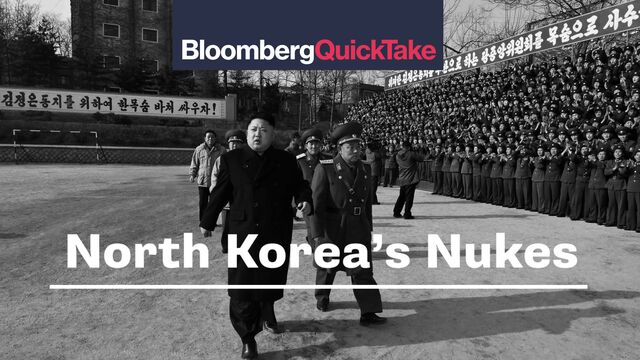 North Korea failed in an attempt to launch a missile on the birthday of its founder, a day after South Korea said the regime might fire a ballistic device believed to be capable of reaching Guam.
The launch took place on North Korea's east coast in the early morning hours of Friday, South Korea's Defense Ministry said in a text message. It didn't say how the launch ended up being a failure. North Korean rockets have in the past exploded in the air.
North Korea deployed a missile known as the Musudan to its east coast weeks after its third nuclear test in 2013. The missile is estimated to have a range of 3,000 kilometers (1,800 miles), making U.S. bases in Japan and Guam potential targets even though doubts continue over its accuracy. North Korea later withdrew the road-mobile missile but on Thursday, South Korea's defense ministry said the missile may have been redeployed.
North Korea conducted its fourth nuclear test in January this year and its leader Kim Jong Un said recently that his country would "soon" detonate another device and test-launch missiles that can carry nuclear warheads. North Korea is banned from testing ballistic missiles under United Nations Security Council resolutions.
The U.S. and South Korea are in talks over a plan to deploy a Lockheed Martin-developed ballistic missile defense system on the Korean peninsula. China has balked at the plan, saying it would disrupt strategic balance in the region. The U.S. has said the Thaad system is only aimed at deterring North Korean missile attacks.
The launch attempt on Friday comes weeks before North Korea holds a Workers' Party meeting that Kim would use to tighten his grip on power after taking over the country from his father in 2011. Friday was also the birthday of Kim's grandfather Kim Il Sung, one of the biggest national holidays in the country that maintains a cult of personality around the family.
Before it's here, it's on the Bloomberg Terminal.
LEARN MORE