New York Gets Sunshine, Colorado Gets Snow and Everyone's Happy
by
Rocky Mountain storm could drop snow by the foot across West

Snowpack could help boost Western states' water resources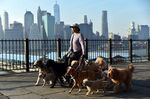 As a warm spring sun shines down upon New York and the rest of the U.S. Northeast this weekend, take a minute to remember Denver and large parts of the Rocky Mountains region, where winter will be raging with all its fury.
In the mountains above Colorado's capital, 2 to 4 feet of snow may fall, with a chance the city will get 4 inches (10 centimeters) or more. The accumulation is tough to forecast because the precipitation will start as rain and then change over.
"It looks like it is going to be a good spring snowstorm even in the lee of the Rockies," said Bob Oravec, a senior branch forecaster at the U.S. Weather Prediction Center in College Park, Maryland. "It's not atypical to get a mid-April snowstorm across that part of the country."
Highs in the mid- to upper-60s Fahrenheit (about 18 Celsius) are forecast for New York City for Saturday and Sunday. Folks in the East shouldn't feel too bad about the snow -- it is actually a good thing. In the U.S. West, snow is water, and after a drought that has scorched the region a good blizzard is prescription for better times.
Water Bounty
"The spring is a really important time for the Central Rockies; they don't get a lot of precipitation in the mid-winter months," said Brad Rippey, a meteorologist with the U.S. Department of Agriculture in Washington.
Rippey said the snow season got off to a good start before dwindling a bit. To end it with a weekend of "big, heavy, wet snow" would be a great help. Some could even fall in the Colorado River basin, which provides water to states downstream, including California.
As of Thursday, almost 33 percent of the central Rockies was covered by snow to an average depth of 12.2 inches, according to the National Operational Hydrologic Remote Sensing Center in Chanhassen, Minnesota. A year ago, 28 percent of the region was covered to an average depth of about 9 inches.
Western Drought
Just over 61 percent of the land across the 11 Western states is abnormally dry or in some stage of drought, an improvement from last year when the total was a little more than 73 percent, according to the U.S. Drought Monitor in Lincoln, Nebraska.
California leads with more than 96 percent of its land dry or worse.
The system bringing the snow also will drop heavy rain across the southern Great Plains from Nebraska to Kansas, Oravec said. There may be some flash flooding in places; however, the water could help that region, which is in the midst of a moderate drought.
So when you factor in the long-term benefits of the snow, it just might be a good weekend from coast to coast after all.
Before it's here, it's on the Bloomberg Terminal.
LEARN MORE