Iran Seeks Access to Its $100 Billion Via U.S. Financial System
by
Not getting benefits of nuclear deal: Iran central bank chief

European banks remain wary of dealing with Tehran's banks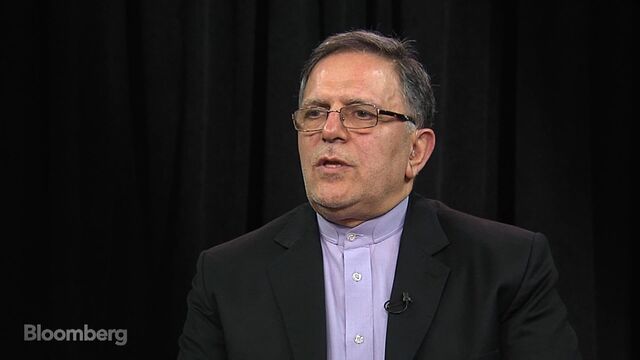 Three months after a nuclear deal was implemented between Iran and western powers, the Islamic Republic has been unable to tap about $100 billion held abroad and is seeking access to the U.S. financial system to help pay its bills, Central Bank Governor Valiollah Seif said.
While Iranian deposits held abroad are supposed to be accessible, Seif said Friday that European banks are worried about running afoul of U.S. regulations. He wants the U.S. Treasury's Office of Foreign Assets Control to issue guidelines encouraging European banks to be more receptive to Iran. Seif met Treasury Secretary Jack Lew Thursday on the sidelines of the IMF-World Bank meetings in Washington to discuss his concerns.
So far, Iran has gotten "almost nothing" from the accord, which was implemented on Jan. 16, Seif said in an interview with Bloomberg Television. "One of the needs that we definitely have goes back to converting currencies to pay our suppliers. It requires having access to the U.S. financial system."
Seeking Investment
The nuclear accord, reached after nearly a decade of international sanctions, raised hopes in Iran of a wave of foreign investment and economic prosperity following years of negative or low growth, a weakening currency, and isolation from global markets. Airline companies including Airbus Group SE and Boeing Co. moved to help the country replace its aging fleet, yet many firms remained wary as U.S. sanctions put in place in the 1990s remained in effect.
Many European banks were fined for dealing with Iran when the country was under sanctions and signed settlement agreements not to deal with Tehran for a number of years. France bank BNP Paribas agreed to pay $8.9 billion in July 2014 for violating U.S. sanctions against Sudan, Cuba and Iran. Germany's Commerzbank AG agreed to pay $1.45 billion for moving funds through the U.S. financial system for Sudan and Iran. Seif wants OFAC to rescind those agreements.
"There is no reason for those obligations to continue," Seif said. "OFAC should release the banks."
Obama administration officials have repeatedly said they aren't blocking access to Iran's overseas deposits. Earlier this week, Adam Szubin, Treasury's acting undersecretary for terrorism and financial intelligence, said he'd seen signs that non-U.S. banks weren't aware of "the scope of U.S. sanctions with regard to Iranian funds that were formerly restrained."
Szubin, however, also said that the U.S. won't provide Iran with access to the U.S. financial system. There would be no restoration, he said, of "U-turn'' authorization, where transactions priced in U.S. dollars are cleared through a U.S. financial institution even though the money doesn't stay in the U.S. bank.
Before it's here, it's on the Bloomberg Terminal.
LEARN MORE