Hedge Funds Get Glacier Bond Agenda From Iceland's New PM
By
Currency auctions will go ahead even if funds stay away: PM

New Iceland PM says government is now stable after protests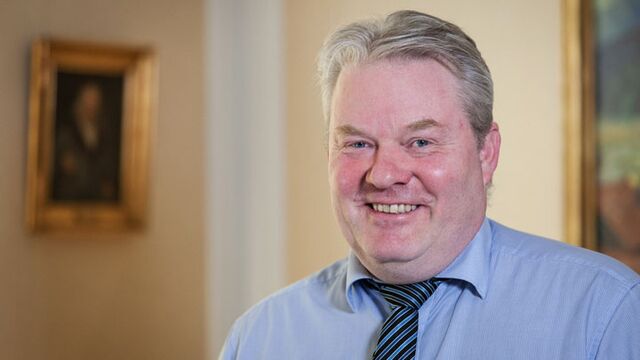 Iceland's new prime minister, Sigurdur Ingi Johannsson, said his government plans to go ahead with auctions intended to unwind offshore krona holdings whether hedge funds agree to participate or not.
Roughly a week after his predecessor was ousted following revelations of private offshore accounts, Johannsson, 53, has little room for error as he tries to guide Iceland through the final steps of unwinding the capital controls that have been in place since 2008.
The country's next step is a currency auction to free about $2.4 billion held by investors in so-called Glacier bonds -- kronur-denominated notes sold outside Iceland until its 2008 financial collapse. The auction is designed to prevent a krona sell-off when the controls are finally removed. The central bank has signaled that early summer is its target for the transactions. Governor Mar Gudmundsson said in an interview earlier this month that such a timeline is "very likely."
It's "mostly a few large hedge funds that hold the largest part of these offshore kronur assets," Johannsson said. "They'll be offered to participate in this auction. If they don't, it's their conscious decision to take a position in Iceland for the long term."
The funds holding the assets include Loomis Sayles, Eaton Vance Management, Discovery Capital and Autonomy Capital, according to documents seen by Bloomberg. According to their financial statements, some of the funds are expecting a haircut on their kronur holdings as big as 38 percent.
Johannsson says the government will continue working according to the existing plan for currency auctions and an exit from capital controls. "The legislation related to this is about to be finalized by the Finance Ministry, and the central bank's work is going well, so this time frame should hold," he said.
Until a week ago, Johannsson was Iceland's agriculture minister. He was catapulted into the role of prime minister following the sudden exit of Sigmundur David Gunnlaugsson amid angry street protests. Johannsson was put forward because he was deputy chairman of the Progress Party that Gunnlaugsson led. It rules in a coalition together with the Independence Party of Finance Minister Bjarni Benediktsson.
Elections, which weren't due until April next year, will now take place as early as September, according to Benediktsson. He, like Gunnlaugsson, has also been the target of protests criticizing his use of offshore accounts. Unlike Gunnlaugsson, Benediktsson exited his accounts before entering government.
If an election were held today, Iceland's government would be toppled and a new coalition, most likely led by the Pirate Party, would take over. A poll published by broadcaster RUV on Friday puts support for the new prime minister at a mere 5 percent.
Should the Pirate Party lead a new coalition, it would seek direct democracy, often through Internet referenda, as well as a separation of investment and retail banking. It hasn't appointed a leader and relies on a vigorous use of consensus decision-making.
Johannsson says his government is moving ahead with budget proposals and has no plans to give the opposition a bigger say than usual.
"We have a very strong majority in parliament and we're operating in accordance with the same coalition agreement," he said. "There's political stability in the country and we'll continue working on the projects we think are important for the national interest and the people in the country."