Greek Talks at IMF Eyed as Analysts Say Deal May Take Months
Crunch time may be July, when Greece must repay €2.3 billion to the ECB.
by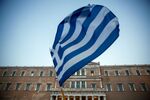 As a deal on a third bailout for Greece, initially due by December, remains elusive, risks are rising that talks may drag into summer when the nation faces a large debt payment.
While analysts expect a solution will eventually be found, the discussion could take months and add to volatility in European assets as uncertainty over Greece comes amid a deadlock in Spanish politics and the run-up to the U.K.'s vote on its membership in the European Union.
What's the latest?
European Commission vice-president Valdis Dombrovskis said Monday that if the Greek government takes a few steps on fiscal targets, an agreement may be only a few weeks away. At the same meeting, EU Economic Affairs Commissioner Pierre Moscovici said the continuing role of the International Monetary Fund in the aid program for Greece is "decisive."
But the IMF has repeatedly said it won't lend Greece more money unless the country's liabilities become sustainable through debt relief and spending cuts. Germany is opposed to such a move, with Finance Minister Wolfgang Schaeuble telling German TV that Greece needs to do more, while repeating his view there's no need for debt forgiveness. European Stability Mechanism Chief Executive Klaus Regling has said reforms can help Greece reach debt sustainability without any recourse to haircuts, urging the nation to also deal with the refugee crisis.
Greece, for its part, says the IMF is holding back an agreement by disputing savings forecasts and demanding further cuts. Greek Prime Minister Alexis Tsipras has said debt-relief talks are set to begin after the first program review.
What's Next?
Greece's government plans to submit bills on tax and pension reform in parliament next week, even though they haven't been approved by creditors who may consider the move to be a unilateral decision. The government is aiming to get the creditors to endorse changes to pensions, taxation and management of non-performing loans before euro-area finance ministers meet April 22, where it's hoped a staff-level agreement will be reached.
Talks with officials from the EC, the European Central Bank, the ESM and the IMF will resume after the fund's spring meetings in Washington, which kick off today. Moscovici said he will seek progress on reducing Greece's debt burden in Washington.
Eurogroup President Jeroen Dijsselbloem says he expects political agreement on the first review of Greek bailout at April 22 meeting or, if not, at the group's next gathering on May 24. By then, pressure will be increasing to get a deal as Greece is due to repay the IMF about €650 million ($733 million) in June and about €2.3 billion to the ECB on July 20. The nation will have difficulty repaying Europe's central bank if an agreement isn't reached by then.
The U.K. referendum on EU membership on June 23 is another factor that could bring the issue to a head, according to a leaked document purporting to be a transcript of a conversation between IMF officials.
What's the likely outcome?
The April 22 Eurogroup is probably too soon for a debt-relief agreement but an earnest political discussion will begin, followed by a deal in May, Eurasia analyst Mujtaba Rahman writes in a client note. He expects an eventual "fudge" with the Eurogroup granting more debt relief than the EC and ECB suggest is needed, but less than what the IMF wants -- with the government asked to deliver the rest in the form of additional reforms.
Standard & Poor's analysts see a compromise on pension reform by the end of April, leading to a conclusion of the review, and say a removal of capital controls is a critical step toward restoring confidence in the country's banking sector.
Athanasios Vamvakidis, strategist at Bank of America Merrill Lynch, expects an accord before the July payment to the ECB falls due. RBS analysts say parties will be aware of the risk of Greece headlines interfering with the so-called "Brexit" vote, so any decision could be delayed until July.
Citigroup analysts including Giada Giani say while Greece's role in the EU-Turkey deal to stem refugee flows into the region could make the other parties more lenient, it could also stiffen the Greek government's position. Even if a third bailout were agreed on, it would probably fail to restore fiscal sustainability and secure Greece's future in the EU, they say.
What does all this mean for markets?
The Athens Stock Exchange is down 1.9 percent over the past month, underperforming the Stoxx 600 that has risen 0.5 percent. Greek government bonds are Europe's worst performers over the same period.
RBS analysts say last year's events show the risk of contagion from Greece has eased but the Brexit vote, weaker regional growth and political fragility in a number of periphery countries means Greek developments could quickly become more relevant if spreads were to come under stress.
Citigroup analysts say Greece represents a potential source of market turbulence in the coming months. An escalation of the Greek situation alongside the U.K. referendum could drive peripheral euro-area bond spreads wider, the euro lower and increase volatility in the single currency, according to Barclays analysts.
Things can get worse in the very short term, but that would be a buying opportunity, BofAML's Vamvakidis says. Any deal between Greece and its creditors would likely open up the way for Greek bond (GGB) eligibility for the ECB's asset-purchase program, Citigroup and RBS analysts say. Greek bank stocks rose Friday after the ECB said their EFSF bonds are eligible for the program. Greylock Capital Management expects a deal and is adding to GGB positions amid the current volatility.
Before it's here, it's on the Bloomberg Terminal.
LEARN MORE