Erdogan Sees Evil in `Lord of the Rings' Where Others See Good
by
Character analysis of Gollum presented to Turkish court

Thousands have been charged with insulting President Erdogan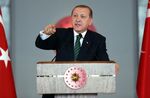 Turkish President Recep Tayyip Erdogan's lawyers are about to come face to face with "The Lord of the Rings." 
Six months ago, family doctor Bilgin Ciftci lost his job for posting photographs online that appeared to liken Erdogan to Gollum, one of the most infamous creatures from J.R.R. Tolkien's epic fantasy novel. The doctor was charged with insulting the president. Now, his freedom hinges on a Turkish court's reading of an existential question about good and evil: Was Gollum "bad?" Or was he simply corrupted by power?
The affair might seem like a quirky one-off, except it's one of thousands of cases that Erdogan's lawyers are pursuing against alleged insults to the president, a crime punishable by more than five years in jail. Like many of them, this one concerns what a private individual can -- and cannot -- say on social media. And with the case drawing more and more publicity, it's becoming emblematic of a broader debate.
"It's only the absurd tip of a very large iceberg. There are thousands of insult cases like this being opened up at the moment in Turkey, and often on very shaky ground," said Aykan Erdemir, a senior fellow at the Foundation for Defense of Democracies in Washington and formerly an opposition member of Turkey's parliament. "This is not a trivial matter."
Jail Time
Ciftci's case was opened after he re-posted an image consisting of three pairs of side-by-side photos on Facebook. In two of them, Erdogan and the film character exhibit similar facial expressions; in the third, Erdogan eats a chicken drumstick and the other chews on a live fish. The case is being tried in the city of Aydin and will convene next on May 12. Erdogan's lawyers are asking the court to punish the defendant with up to two years in jail.

"The Lord of the Rings" director Peter Jackson and actor Elijah Wood are among those who've weighed in on the case. Jackson said the pictures weren't even of Gollum, but of his alter-ego, Sméagol. "That Bilgin Ciftci faces jail time for comparing Erdogan to Gollum/Smeagol, regardless of wether he's good or bad, is horrifying," Wood said on Twitter on Dec. 3.
Character Analysis
Erdogan, 62, rules Turkey de facto from a 1,150-room palace he had built in Ankara, and is pushing to change the nation's political system to one governed by the president from the current parliamentary model. Never known for tolerance of criticism during 12 years as prime minister, he's become increasingly litigious since becoming president in 2014, opening nearly 2,000 insult cases against Turkish citizens, or more than three a day. This month he also asked German authorities to press charges against a comedian who lampooned him.
The verdict of the experts on Gollum is that he was good at core, yet became corrupted after encountering the power of a magical ring, according to a 12-page character analysis submitted to the court and reviewed by Bloomberg. "Good and evil can't be so clearly distinguished in the film," according to an academic paper it cites. "Some of the supporting heroes succumb to the desire to have the power pass to them, and become bad characters; that is, they change," it said.
Political Dominance
Erdogan founded Turkey's ruling AK Party in 2001, the same year that the first part of Jackson's "Lord of the Rings" trilogy hit movie theaters. He became prime minister soon after, riding a wave of optimism based on his tenure as a mayor of Istanbul and his plans to unite discordant sections of Turkish society.
While he remains unbeatable at the ballot box, in later years Erdogan's approval ratings have dipped, as he encountered a slowing economy, abandoned a peace process with Kurdish militants that his party pioneered, and began lashing out at internal opponents, accusing many of trying to overthrow him. Thousands of people have lost their jobs in purges in the last three years.
The doctor's defense in the Gollum case rests largely on semantics, as it keys in on the assertion of Erdogan's lawyers that Gollum represents a "bad" character. Poking holes in the premise, the expert testimony echoes Jackson's statement that the charges actually hinge on a case of mistaken identity.
Gollum's split personality alternates in the film between the creature he's become and the Hobbit called Sméagol that he once was, before being entranced by the ring and taking on a new name and personality. The shots posted by Ciftci all show Sméagol, according to the court documents, meaning the character to which Erdogan has been implicitly compared isn't the greedy, corrupt Gollum but one who's "good, peace-loving, loyal and brings to mind positive associations."
That argument is missing the point, says Yaman Akdeniz, a law professor at Istanbul's Bilgi University and anti-censorship activist, who's writing an expert opinion for the defense ahead of the next part of the trial.
"Gollum or Sméagol, it really doesn't matter because comparing the former prime minister or the president of Turkey to these well-known characters is not an insult," Akdeniz said. "The comparison is well within the limits of acceptable criticism of political figures."
Before it's here, it's on the Bloomberg Terminal.
LEARN MORE