Five Things You Need to Know to Start Your Day
Get caught up on what's moving markets.
by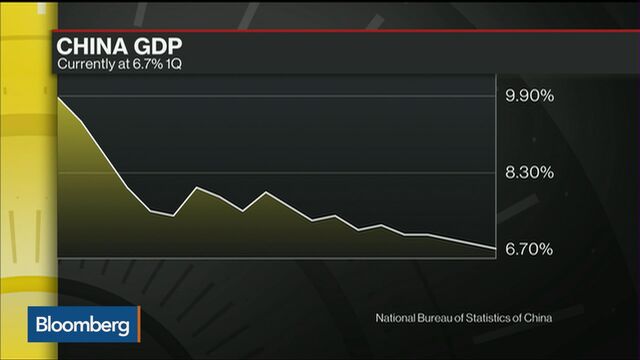 Want to receive this post in your inbox every morning? Sign up here
A Chinese data dump, Doha oil talks, and the impeachment vote in Brazil. Here are some of the things people in markets are talking about today.
China GDP
China's gross domestic product rose 6.7 percent in the first quarter from a year earlier, in line with the median expectation of economists surveyed by Bloomberg. The People's Bank of China also released data on credit growth in the economy in March with an expansion of aggregate financing to 2.34 trillion yuan ($360.7 billion) far exceeding expectations. The credit expansion saw a surge in real estate investment in March, with the value of homes sold jumping 71 percent, the biggest year-on-year increase since at least 2015. 
Markets
Chinese data failed to lift stocks there overnight, with the Shanghai Composite Index closing 0.1 percent lower, trimming its weekly advance to 3.1 percent. The broader MSCI Asia Pacific Index lost 0.2 percent, retreating from its highest level in four months, with Japanese shares dropping after a deadly earthquake in the Kumamoto prefecture. In Europe, the Stoxx 600 Index was 0.2 percent lower at 10:46 a.m. London time, with Volkswagen AG slipping 1.7 percent after data showed the automaker's share of the European market fell to a five-year low. S&P 500 futures were 0.2 percent lower.
Doha meeting
On Sunday members of OPEC and Russia will meet in Doha to discuss the freezing of oil production at January levels in an effort to stabilize prices. With the attendees of the meeting representing 60 percent of global production, the outcome of the meeting will closely watched by oil analysts, even though some of them believe it will have little supply impact, no matter what is agreed. It seems the oil futures market agrees with that sentiment, as the commodity is falling for a third day this morning, with a barrel of West Texas Intermediate down 51 cents to $40.97 at 11:02 a.m. London time. 
Brazil
The other big event for investors to watch this weekend will be political developments in Brazil, where a last minute attempt to block an impeachment vote against President Dilma Rousseff in the Supreme Court has failed. The vote will now go ahead on Sunday, with markets viewing the removal of Rousseff as a positive development for the country and the global economy. The vote, due at 2 p.m. local time, is so important in Brazil that soccer matches are being rescheduled and huge outdoor screens to broadcast proceedings have been set up.
Goldman cost cuts
Goldman Sachs Group Inc., which is due to report earnings next Tuesday, is embarking on its biggest cost-cutting push in years as it faces a slump in trading and deal making. JPMorgan Chase & Co. and Bank of America Corp., which reported this week, also showed that they were cutting costs more than expected to counter declining revenue. Citigroup Inc. is due to report this morning, as worries continue over how safe the U.S. banking system really is. 
What we've been reading 
This is what's caught our eye over the last 24 hours.
Before it's here, it's on the Bloomberg Terminal.
LEARN MORE