China Averts a Hard Landing With a Credit-Powered Trampoline
Bloomberg News
Property and investment helped to boost first-quarter growth

Investors look for officials to use breathing space for reform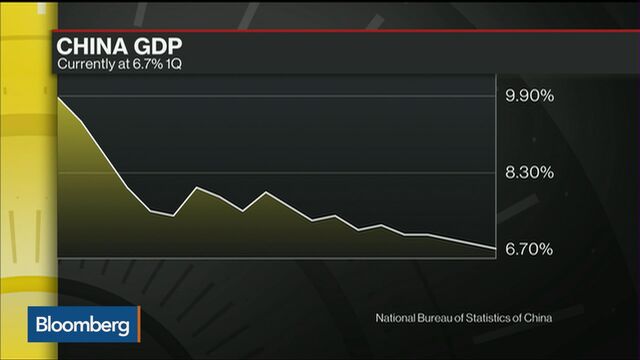 So much for the hard landing scenario.
Chinese leaders appear to have stabilized their $10 trillion-plus economy by relying on a tried and true playbook: unleash a torrent of credit to power a borrowing surge and spending splurge.
The flood of money has helped house prices rebound, spurred investment, stabilized markets and buoyed consumers. It also ensured that gross domestic product in the first quarter came in at a 6.7 percent gain from a year earlier, matching expectations and well within the government's 2016 target of 6.5 percent to 7 percent.
It's all a world away from the start of the year, when stock markets reeled in Shanghai and Shenzhen and investors around the world were baffled by currency policy and the direction of the yuan. In January, what looked like a decelerating and unstable China loomed as a negative for the global economy and all manner of commodities, from copper to crude oil. That's no longer the case, at least for now.
Yet behind China's improved GDP performance lurk some long tail risks. Credit growth exploded in the first quarter, in an economy already awash in debt and industrial overcapacity. The borrowing binge spurs questions about sustainability, and may create thornier challenges later unless President Xi Jinping's government follows through on its goals of restructuring bloated state-owned enterprises and cleaning up a bad-debt encumbered banking sector.

Amid a deluge of data that was released on Friday, one number stands out: aggregate financing, a broad measure of credit that spans commercial banks to the unofficial shadow lenders. It totaled 2.34 trillion yuan ($361 billion) in March, the People's Bank of China said, far exceeding all 24 forecasts in a Bloomberg survey.
"Perhaps most alarming about the recent stabilization is the resurgence of credit growth," said Alex Wolf, an economist for emerging markets at Standard Life Investments Ltd. in Edinburgh. "This more than any other data point clearly shows the choice of growth over reform."
Sugar Buzz
Quarter-on-quarter credit growth in the first three months of this year was more than double the pace than the prior period, estimates Tim Condon, head of Asian research at ING Groep NV in Singapore.
That's a big contrast from the focus earlier in the terms of Xi and Premier Li Keqiang, when China's so-called fifth generation of Communist leaders dedicated themselves to restructuring and dialing back the surge in borrowing embraced by their predecessors during the global financial crisis. Now, policy makers appear more determined to deliver a short-term adrenaline shot to the economy than making changes needed to rebalance away from manufacturing and investment and towards services and consumption.
"We believe that China's policy makers are set to throw in the towel on rebalancing, of which there has been precious little evidence in the data, and instead 'double down,'" economists at Fathom Financial Consulting Ltd. in London wrote in a note ahead of the release of the GDP data. "That means a return to old ways, with growth driven primarily by more investment in fixed capital."
Currencies Rise
Markets on Friday seemed happy enough with the old model, at least in their immediate reaction. The Australian dollar advanced as much as 0.5 percent against the U.S. dollar, and the South Korean won climbed 0.9 percent as traders assessed the fortunes of two economies closely tied to China's. While oil initially rose, crude ended the Asia day lower.
The Xi-Li agenda is meant to include a big effort to slash overcapacity and excess labor in the inefficient, over-capacity $16 trillion state-owned enterprise sector. The idea behind such supply-side theory measures is an embrace of productivity gains and reduced tax barriers that can help free up room for private enterprise. 
There's no question that China is pursuing some change. Defaults of state-owned companies are slowly being allowed to happen and the government has promised to shut loss-making enterprises, particularly in crowded industries such as steel and coal.
Consumers Spend
There are signs, too, that the rebalancing away from old-line industries is working. Retail sales rose 10.5 percent in March from a year before, and domestic consumer-focused companies continue to talk up their prospects in China. Cinema ticket annual sales could overtake the U.S. as early as 2017, while outbound tourism is on course to reach 200 million by 2020 according to CLSA Ltd.
The stimulus being rolled out this time in the form of an enlarged fiscal deficit and liquidity injections from the central bank is far more targeted than the unrestricted efforts rolled out after the global financial crisis in 2008. Xi has aimed to keep central government oversight to a greater degree than under his predecessor, when local authorities set up opaque funding vehicles for projects with scant oversight.
"I think this stimulus was intended to ensure that economic deceleration remains gradual, rather than to re-accelerate growth, " said Andy Rothman, a San Francisco-based investment strategist at Matthews Asia, and previously a U.S. diplomat in Beijing.
Debt Mountain
Still, China's borrowing levels remain worrisome. Total debt held by the government, companies and households is almost 2.5 times the economy's size, according to Bloomberg Intelligence. Ratings firm Standard & Poor's in March cut the outlook for the sovereign rating to negative from stable. Moody's Investors Service earlier made a similar revision, and questioned the government's ability to enact reforms. 
Moody's again warned in the aftermath of Friday's data that relying on debt to prop up growth may fuel longer-term imbalances. The International Monetary Fund on Thursday said China may have $1.3 trillion loans extended to borrowers that don't have sufficient income to cover interest payments, with potential losses equivalent to 7 percent of the country's GDP.
It all reveals a tension between a need to rein in borrowing and pursue short term growth, said Shaun Breslin, a professor of politics at Warwick University and an associate at Chatham House, a London-based international policy group. "By and large the agenda seems now to be about circulating the debt round the system in different ways rather than getting rid of it," he said.
The easy credit helped home sales jump 71 percent in March from a year earlier while investment in real estate developments surged 6.2 percent in the first quarter from a year earlier. Industrial output expanded 6.8 percent in March from a year earlier.
Easing the Chinese economy off its debt dependency won't be easy, said Mark Williams, chief Asia economist at Capital Economics in London. "The big question will come in a few months when nerves have settled and the economy looks more stable. That's the point at which stimulus should be withdrawn," he said. "If it isn't, a more lasting slump in growth at some point in the next five years will start to look a lot more likely."
— With assistance by Enda Curran, and Kevin Hamlin
Before it's here, it's on the Bloomberg Terminal.
LEARN MORE