Top Brazil Court Allows Impeachment Vote to Proceed Sunday
by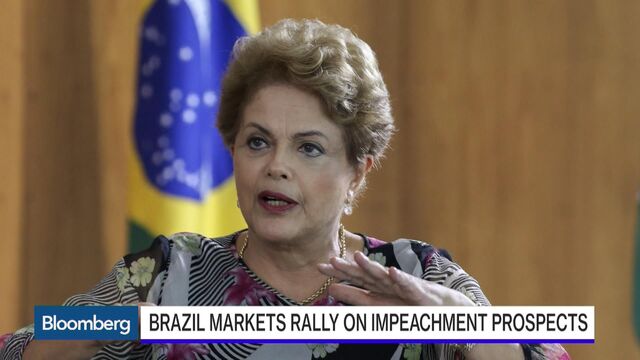 Brazil's Supreme Court overturned a government motion and allowed voting on impeachment to continue as scheduled on Sunday, delivering a blow to Dilma Rousseff as she struggles to keep her presidency.
In a special session Thursday night, the court shot down arguments made earlier in the day by Attorney General Jose Eduardo Cardozo that the impeachment process was flawed and the administration hadn't received the right to a proper defense. In an eight to two vote, the justices ruled against the government in a marathon session that ran past midnight. They also decided Congress can't rule on allegations that weren't included in the original impeachment request, which was accepted in December.
"We didn't manage to win on the injunction, but on the bright side we established limits in the impeachment process," Cardozo told reporters after the ruling.
Cardozo's motion came as political analysts including Joao Augusto de Castro Neves at consulting firm Eurasia Group said that odds were increasing Rousseff would lose the impeachment battle. Brazilian newspapers O Globo and Estado de Sao Paulo both reported there were enough votes in the lower house to defeat the president on Sunday.
"The mere decision by the Presidential Palace to file a motion is a sign of desperation," De Castro Neves wrote in a research note Thursday.
The court ruling also threatens to give the impeachment request against Rousseff an added air of legitimacy, after the administration spent months trying to paint it as an attempted coup, Oscar Vilhena, director of the FGV Law School in Sao Paulo, said Thursday.
The lower house is scheduled to start voting on Sunday afternoon whether to proceed with impeachment and send the case to the Senate. If a simple majority of the upper chamber agrees to try the president, she must step down for as long as 180 days as legislators debate the case.
In its ruling, the Supreme Court also validated the most recent voting order established by lower house speaker Eduardo Cunha: lawmakers from northern and southern states will alternate when casting their votes on Sunday. Initially Cunha had sought to start with southern states, where most congressmen are in favor of impeachment.
Before it's here, it's on the Bloomberg Terminal.
LEARN MORE