`Odd' Insider-Trading Suspect Was Like Zulu Patrolling London
by
Andrew Hind chose not to testify in U.K. insider-trading case

Hind used `covert' activities to keep friend from being fired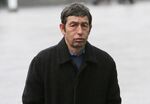 The accountant accused of being the middleman in the U.K.'s biggest insider-trading case never testified because prosecutors failed to prove the charge, his lawyer told jurors while at the same time calling his client "schizophrenic" and comparing him to a Zulu patrolling the streets of north London.
The 55-year-old Hind, who is accused of relaying tips from corporate brokers to day traders, was described by his lawyer, William Boyce, as a man of contradictions.
He had a top degree at university and served as chief financial officer for prominent companies. Still, during the three-month trial the jury heard how Hind was a bit "odd," illustrated by his storing food at the onset of the 2008 financial crisis in case of civil unrest, building an armory of spears, hockey sticks and baseball bats.
He "wasn't very far away in 2008 from a picture of patrolling the streets on Muswell Hill like a Zulu," Boyce said during closing arguments Friday. There was something "schizophrenic" about Hind, he said.
The Financial Conduct Authority alleges Hind, Martyn Dodgson, Andrew "Grant" Harrison, an ex-stockbroker at Panmure Gordon & Co., Benjamin Anderson, a 71-year-old private day trader, and businessman Iraj Parvizi, 50, worked together to trade securities with inside information between November 2006 and March 2010. The FCA claims Dodgson and Harrison passed price-sensitive information from their jobs in the corporate broking departments at big banks to Hind, who then passed it to Anderson and Parvizi.
Boyce said that some of the prosecution's evidence, including the fact that Hind used encrypted memory sticks and nicknames to disguise trades could be attributed to a desire to protect his friend's job. Dodgson, a former managing director at Deutsche Bank AG, was subject to strict policies on trading.
"We embrace the covert activities. If you have any doubt about covert activities" dump it all on Hind, Boyce said. The prosecution's case doesn't "require any explanation from him."
The FCA say the men traded tips that helped them make 7.4 million pounds ($10.5 million) in profits trading six stocks, including Sky Plc and Legal & General Group Plc. The case is dubbed "Operation Tabernula" by the regulator, Latin for "little tavern."
Before it's here, it's on the Bloomberg Terminal.
LEARN MORE