U.S. Stocks Little Changed as Banks Gain, Technology Shares Drop
by
BofA lift lenders after saying it sees more room for cost cuts

Delta earnings boost American Airlines, United Continental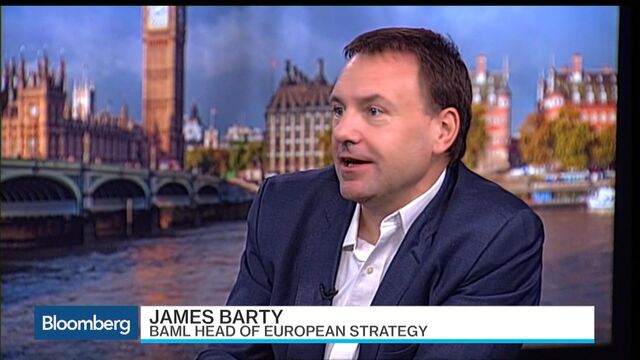 U.S. stocks ended little changed on Thursday, with the Standard & Poor's 500 Index near a four-month high and the Dow Jones Industrial Average edging to the highest since July, as investors assessed earnings releases and data showing the labor market is improving with little pickup in inflation.
Banks advanced, with Bank of America Corp. advancing a fifth day after saying it sees more room for cost cuts. Airline operators jumped along with Delta Air Lines Inc., which posted quarterly earnings that beat projections. Technology shares retreated as Seagate Technology Plc plummeted 20 percent after reporting preliminary revenue that trailed estimates.

The S&P 500 added less than 0.1 percent to 2,082.78 at 4 p.m. in New York, after reaching the highest level since Dec. 4 yesterday. Financial shares and commodity producers have led the benchmark gauge to a 1.7 percent advance so far this week, after the measure faltered last week amid skepticism central banks' efforts to shore up growth will fail to be effective. The Dow Jones Industrial Average increased by 18 points to 17,926.43 on Thursday, the highest since July 20. The index is 2.1 percent below its record.
While the rally that lifted the S&P 500 since February is regaining momentum, skepticism still prevails, with valuations far above their five-year average and the seven-year bull market weeks away from becoming the second-longest in history. Some investors also attribute the rebound to short squeezes, with a Goldman Sachs Group Inc. gauge of the 50 most-shorted stocks posting its biggest two-day jump in almost two months.
"It's time for the market to earn the rally we've had over the last seven or six weeks, in terms of an actual earnings picture," said Michael Mussio, managing director of FBB Capital Partners, which oversees $850 million."We're back to waiting and seeing. The market definitely seems like it's priced in for some type of upside surprise, but we'll have to see."
Analysts have slashed profit estimates for S&P 500 members this year, now projecting net income fell 10 percent in the first quarter. Investors are also tracking economic releases. Stock futures climbed in pre-market trading after data showed initial jobless claims fell to match the lowest level since 1973 and the cost of living excluding food and fuel rose less than forecast in March.
Futures also extended gains after Federal Reserve Bank of Atlanta President Dennis Lockhart said today on Bloomberg Television that inflation is still lagging the central bank's target and a patient approach to policy "makes sense." After comments by Fed Reserve Chair Janet Yellen reaffirmed officials won't rush to raise interest rates, traders are pricing in zero possibility of a raise at the end of April, with December now the first month with even odds of higher borrowing costs.
Semiconductors and technology hardware companies were the worst performing groups. Western Digital Corp., a rival of Seagate, sank 6.7 percent, while chipmaker Micron Technology Inc. slid 4.4 percent after saying it plans to sell $1 billion in notes. Intel Corp. the world's biggest semiconductor maker, dropped 1 percent.
Delta, American Airlines Group Inc., and United Continental Holdings Inc. added more than 0.9 percent to make up some of the biggest winners in the S&P 500 today.
Valeant Pharmaceuticals International Inc. wiped out losses briefly in late afternoon trading, after Legg Mason Inc.'s Bill Miller said at an investor meeting Thursday that he's buying shares, betting that the price of the embattled drugmaker could double. Shares ended the day 2.2 percent lower.
Chipotle Mexican Grill Inc. climbed 2.6 percent after JPMorgan Chase & Co. raised its rating on the stock to the equivalent of a buy.
SunEdison Inc. soared 58 percent after saying it found no misstatements in its financial statements.
Before it's here, it's on the Bloomberg Terminal.
LEARN MORE