Style
The Eight Best Oxford Shirts for All Male Body Types
Whether you are short and slim, athletic, or big and tall, there's a shirt in here for you.
By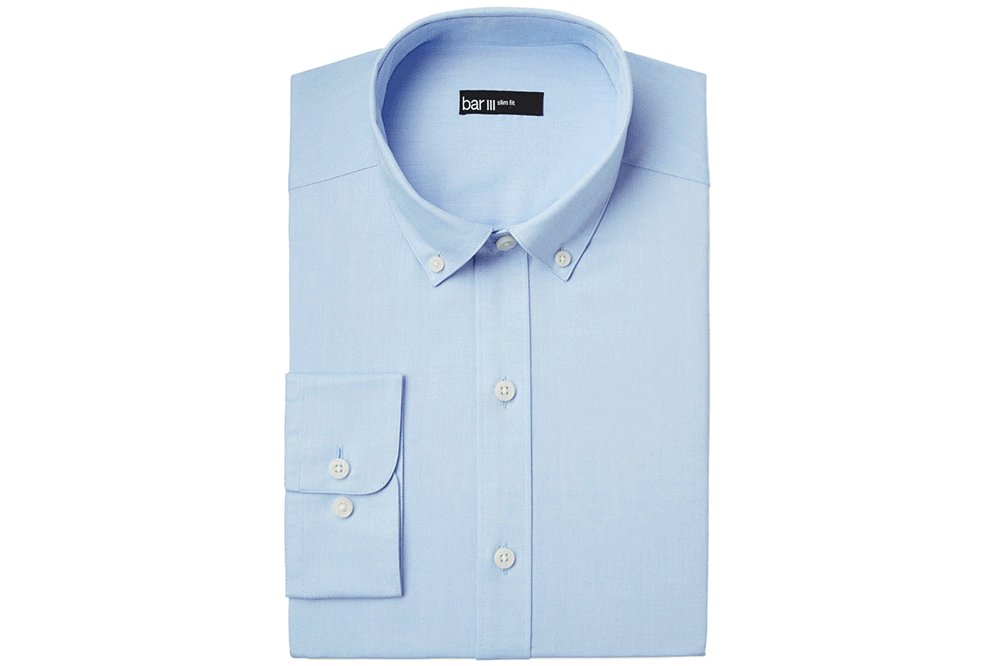 A classic Oxford button-down can be one of the most versatile shirts in your wardrobe. You can wear it to work, to dinner, or even—with the sleeves rolled up—to the beach.
That's why it can feel like such a miracle if you find one that fits you right off the rack or with just minor tailoring. You can buy it in a few colors and easily replace one if it gets worn out. (Although Oxfords tend to be made from durable pinpoint cotton, and therefore last longer than other shirts. Another reason why they are so useful.) 
Here are eight versions from great shirtmakers, each cut for a slightly different body type. We've sorted them according to shape and size to help you find the one that's just right for you.  
Bar III

Body type: Extra Slim (guys whose chests measure between 34 and 36 inches.)
If you are small and fit, chances are this Bar III Oxford will fit you without any alterations. The armholes and sleeves are designed to be totally snug, which is a rarity in dress shirts you find in a department store. ($57.50, macys.com)   
Thom Browne

Body type: Slim and Short
If you often find yourself rolling up your sleeves or having to tuck your shirt in because it's too long, your shirt doesn't fit—even if it looks right around your chest and shoulders. Luckily for you, Thom Browne shirts are cut slimmer and have hem lines that are shorter than the traditional length. ($370, thombrowne.com) 
Uniqlo

Body type: Average Height and Weight
If you're an  unusual shape or size, you would probably be surprised by how hard it is to find the perfect collared shirt even for men who have basically standard body types (read: They aren't very tall or short, nor super skinny or few pounds over). A great place for those guys to start is with the Japanese brand Uniqlo; it offers an Oxford that has a slimming, tailored look but is not too tight. If this is you, also check out versions from Banana Republic, J.Crew and Frank & Oak. ($29,90, Uniqlo.com)
Gant Diamond G

Body type: "Dad Bod," Average Height
Gant recently launched its new Diamond G line, which combines the sporty aesthetic found within the Gant casual line and the dressy and more tailored vibe of Gant Rugger. The shirts in the Diamond G collection have a slightly relaxed cut with a classic (not tailored) silhouette. Expect room around your shoulders, chest, and arms. ($98.50, gant.com)
Ralph Lauren 

Body type: Big and/or Tall 
Ralph Lauren has a big and tall line designed for fellas that are, you guessed it, big and tall. It offers sizes ranging from a 52-inch chest to a 62-in. chest. Additionally,  the sleeves go down as long as 381⁄2 inches. Ralph Lauren has you covered, big guy. Literally. ($98.50, ralphlauren.com) 
Bonobos 

Body type: Slim and Tall 
When you're tall and scrawny, you have three battles to fight. Most frequently the issue will be that a shirt that fits your body will not have long enough sleeves. (Long sleeves tend to be paired with big collars, but you have a small neck, kiddo.) Then there will be times the shirt is not long enough to tuck into your pants and have it stay there. Finally, there will be shirts that are long enough all around, but are way too blousy even to tailor into submission. Bonobos has the solution: a slim/tall fit that is usually 2 inches longer in the body and the sleeves and is still pretty snug. ($85, bonobos.com) 
Hugh & Crye

Body type: Athletic Build 
Guys that lift but still have narrow waists: This is the shirt for you. Please try to avoid wearing something too tight that stretches across your muscles and go with this thoughtfully cut Oxford instead. ($75, hughandcrye.com)
Gitman Bros.

Body Type: Various 
While a lot of custom shirt companies sell online (Ratio Clothing and Proper Cloth are great options), Gitman Bros. offers one of the easiest ways of finding your size. The company focuses on just three elements: fit, collar, and sleeve length. This provides a lot of variations but keeps your choices simple. Oh, and feel free to throw on your monogram for some personalization. ($155, gitman.com)
Before it's here, it's on the Bloomberg Terminal.
LEARN MORE