Software Tycoon Turns Political Kingmaker in Korea Stalemate
By
Parliamentary vote leaves Ahn a potential presidential hopeful

Success of Ahn's People's Party upends two-party dominance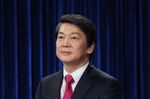 For years, Ahn Cheol Soo would rise at 3 a.m., warming himself with a blanket and a cup of coffee, to code a computer anti-virus program that he would later distribute free to millions of South Koreans, making him a household name.
The company he founded in 1995, Ahnlab Inc., went on to become South Korea's leading anti-virus software developer. On Thursday its shares surged as much as 21 percent after its biggest shareholder, who began dabbling in politics about five years ago, led his People's Party to a strong showing in parliamentary elections. The party almost doubled its seats, denying President Park Geun Hye's party a majority and setting Ahn up as kingpin in the new legislature.
The poor showing by Park's Saenuri party -- which confounded some opinion polls beforehand suggesting she'd pick up more seats -- has raised the risk of further gridlock in the parliament and sets back her economic agenda. Securing Ahn's support will be key for Park to be able to pass legislation in her final two years in office. So far Ahn has not indicated whether he will back Park in the new parliament.
Ahn, a medical doctor, only formed the PP in February after breaking off from the main opposition Minjoo party to offer a more centrist alternative to the main political groupings. He was elected to parliament in Wednesday's vote.
Presidential Election
Touted as a probable candidate in the 2017 presidential race, Ahn has offered few policy specifics. He has cited U.S. President Franklin Roosevelt as a role model and advocates higher welfare spending, stiffer capital gains taxes and caution on free trade agreements. He has been critical of Park's get-tough policy on North Korea and favors expanding economic ties to entice Pyongyang to give up nuclear weapons.
"It's much better if Ahn positions himself ideologically between the two as a centrist, modernizing, classical-liberal, libertarian alternative," said Robert Kelly, a political science professor at South Korea's Pusan National University. "Young conservatives bolted on Saenuri and they didn't want to vote for the Minjoo, because they think it's too left-wing and too pro-North Korea. They looked at Ahn like the center-right alternative."
Ahn, 54, almost ran against Park in the 2012 presidential race and polls suggested he would have been competitive, but he opted to support another candidate. With Park limited to a single, five-year term, his showing in the parliamentary election leaves him well positioned to contest the presidency next year.
Ahn's party landed 38 seats in the 300-member parliament, giving him the potentially deciding vote on legislation. Saenuri lost 24 seats to finish with 122 and the main opposition squeaked ahead with 123.

"This election is not a victory for politicians, this is a victory for the people," Ahn said at a televised press conference Thursday in Seoul. Ahn proposed forming a committee within the national assembly to focus on job growth.
In a poll released Thursday by Realmeter, Ahn trailed former Minjoo leader Moon Jae In as the most popular choice for president. Prior to the parliamentary election, Ahn had also trailed former Seoul mayor Oh Se Hoon. Moon has already lost one presidential run, while Oh was defeated Wednesday in his bid for a seat in parliament.
Public discontent over Park's leadership and handling of the economy contributed to Saenuri's rout. South Korea's youth unemployment rate hit a record 12.5 percent in February and exports have fallen for 15 consecutive months. Park's plan to try to boost economic competitiveness by making it easier to fire workers sparked street protests in Seoul. Ahn was able to tap that anger and convert it into electoral gains.
"I voted for No. 3. Why? I didn't see any good election pledges made by the two main parties," said Jeong Myung Hwa, 29, who works at a marketing company in Seoul. "I only saw lawmakers who are hungry for power. I knew that, but the election has shown that the Saenuri is really Park's party and not doing their job of keeping a check on the government. The main opposition was not much different, so I thought it's time to pin hope on the third party."