Rousseff Impeachment Chances Cut World Political Risk Exposure
by
President's ouster seen as key to ending turmoil in Brazil

Eurasia Group sees first risk reduction since 2008-09 crisis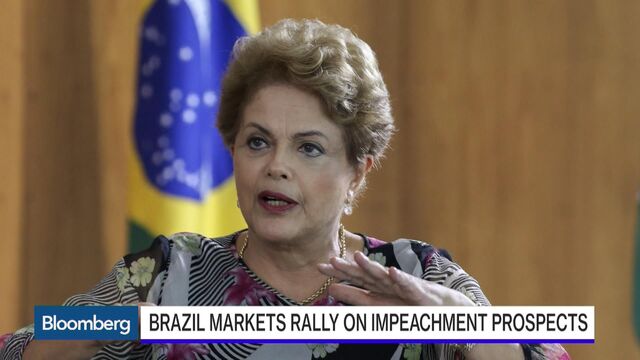 The growing chances that Brazil's president will be impeached has cut the world economy's exposure to political risk for the first time since the global financial crisis, as her exit would be a key step toward ending the turmoil in the second-largest emerging market, according to the Eurasia Group.
A global aggregate of 77 countries' individual risk scores, weighted by their gross domestic product, showed that the international economy is recovering from the highest level of political instability in a decade, according to data compiled by the New York-based political risk research and consulting firm.
The main driver of the recovery is declining political volatility in major emerging markets such as Brazil, where lawmakers are moving to impeach President Dilma Rousseff, and China, according to Aditi Marisetti, emerging markets strategy analyst at Eurasia. Politically risky developing nations such as Turkey and Russia also are seeing their global share of GDP shrinking, as shown by the International Monetary Fund's latest revisions to the world economic outlook, Marisetti said.

Individual country scores, which make up the broader global political risk index, are calculated using monthly surveys on government stability, social stability, security, economic policies and investment policy. The scores, which range from 1 to 100, with 100 being the most stable, seek to capture the outlook for politics and its impact on the business environment. The index is weighted by the size of each country's economy based on purchasing power parity, or share of the world total, to produce the global aggregate.
"The end of the commodity boom in 2008 resulted in a rise of political risk in select countries, and at the same time, we see these more risky EMs increasing their share of global GDP," Marisetti said. "Since these EMs were starting at a lower base of political stability than the developed world, we had seen a sharp rise in overall risk exposure on the global economy."
As of April 2016, Eurasia found Iraq, Egypt, and Ukraine to be the most politically risky nations in the world, in contrast to Luxembourg, Norway and Singapore, which are the most stable.
Before it's here, it's on the Bloomberg Terminal.
LEARN MORE