Revenue Down? No Problem: Bank Stocks Climb With Cost Cuts
by and
JPMorgan, Bank of America shares rise as expenses are cut

Wells Fargo underperforms rivals after reporting higher costs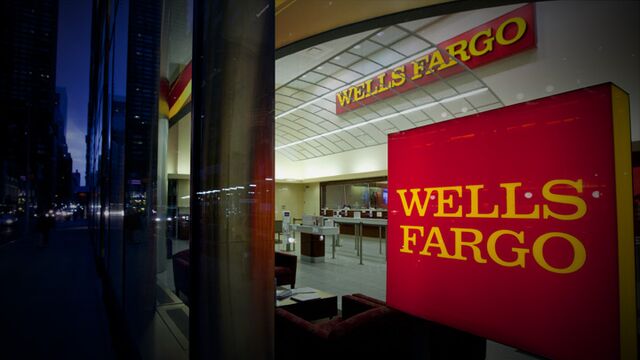 Banks found a way to please investors when they couldn't increase revenue: cut pay, fire employees and shut branches.
JPMorgan Chase & Co. and Bank of America Corp. led financial stocks higher this week after the two biggest U.S. lenders reported reductions in first-quarter expenses that beat analysts' estimates. Costs and the number of employees rose at Wells Fargo & Co., the worst performer Thursday among the largest U.S. banks.

In an era of stubbornly low interest rates and slumping profits from Wall Street trading, banks are turning to expenses as the only lever to pull with revenues declining. It's one they used last year, when the five biggest U.S. banks made the most profit collectively since before the financial crisis by eliminating more than 20,000 jobs and paring expenses 13 percent.
Costs dropped 6.4 percent to $14.8 billion at Bank of America, below the $15.1 billion predicted by Matthew Burnell, a Wells Fargo analyst who said the results "showed solid expense management." The firm had 6,475 fewer workers and 146 less branches at the end of the first quarter than it did a year earlier. Spending cuts helped mitigate a 6.7 percent drop in revenue.
"There's a lot more to do," Chief Executive Officer Brian Moynihan said Thursday on a conference call with analysts.
Bank of America shares climbed 3.5 percent to $14.27 at 12:20 p.m. in New York, the second-best performance in the 24-company KBW Bank Index.
Bankers' Pay
JPMorgan said Wednesday that it cut 3,725 employees in the past year, contributing to profit gains that beat Wall Street estimates as it slashed bankers' pay and legal costs declined. Non-interest expenses fell 7 percent to $13.8 billion. That compares with Burnell's $14.9 billion estimate. Pay in the investment bank declined 14 percent to $2.6 billion, down more than $420 million from a year earlier. The shares gained about 6 percent in the past two days.
"These stocks had so much bad news priced into them, any sign of progress is welcomed," said Shannon Stemm, an analyst at Edward Jones & Co. in St. Louis. "There's opportunity on the expense side."
At Wells Fargo, expenses rose 4.2 percent from a year earlier to $13 billion on higher incentive compensation and benefits, the San Francisco based company said Thursday. The firm added 2,600 employees since last year.
Shares of Wells Fargo fell 0.3 percent to $48.88, the second-worst performance on the KBW Index behind PNC Financial Services Group Inc. Pittsburgh-based PNC fell 1 percent to $84.32 on Thursday after the bank said expenses this quarter will climb from the first three months of 2016.
John Shrewsberry, Wells Fargo's chief financial officer, said there's an "upward bias" to the firm's costs as new employees are added in technology and risk management. He said the bank's efficiency ratio, which measures how much it costs to generate a dollar of revenue, remains in the target range of 55 percent to 59 percent even with the cost increases.
Before it's here, it's on the Bloomberg Terminal.
LEARN MORE