Sumner Redstone Won't Testify at Mental Competency Trial
by
Ex-girlfriend seeks to regain his health-care directive suit

Former Viacom chairman's mental capacity at issue in May trial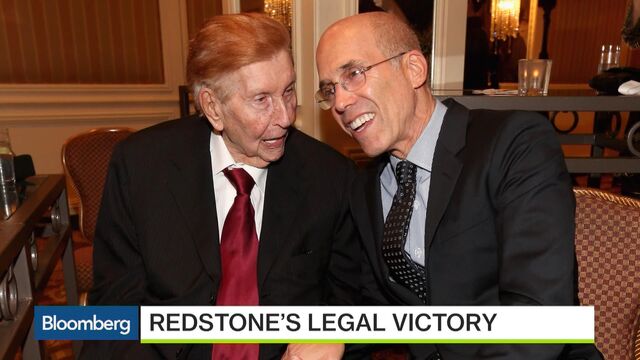 Sumner Redstone won't be called to testify at a trial next month to determine whether the 92-year-old former Viacom Inc. and CBS Corp. chairman is mentally incompetent as alleged by an ex-girlfriend.
A lawyer for Redstone said at a court hearing Thursday in Los Angeles that the media billionaire, whose speech is severely impaired, won't be testifying in person at the trial scheduled to start May 6. The lawyer, Robert Klieger, said he may still seek another way to present testimony from Redstone.
Pierce O'Donnell, a lawyer for the former girlfriend seeking to have Redstone declared incompetent, said he won't call him as a witness either. "He would be exhibit A under normal circumstances," O'Donnell told the judge.
"This dooms their case," O'Donnell said after the hearing. Redstone's lawyers decision not put him on the stand "is not because he can't speak but because he's incompetent."
Manuela Herzer, who said she had been designated as the person to make medical decisions for Redstone if he were to become incapacitated, filed a petition to have Redstone declared incompetent after she was replaced in October by Viacom Chief Executive Officer Philippe Dauman as his health-care agent. She claims Redstone was mentally incapacitated at the time.
Redstone's lawyers contend Herzer's ulterior motive is to contest her removal from his will. They said Herzer stood to inherit $50 million plus Redstone's $20 million home before she was taken out of his estate plan.
Deposition Requested
Thursday's court proceedings were initiated by O'Donnell, who asked California Superior Court Judge David Cowan to order Redstone to testify in a sworn deposition before the trial. O'Donnell said that order would be appropriate because Klieger said in a March 28 e-mail that Redstone would be called as a trial witness.
Cowan denied O'Donnell's request after Klieger said at the hearing that Redstone won't be called to provide "verbal" testimony in court. The judge said he won't allow Redstone to testify by way of a declaration.
"We are deeply gratified that the court continues to protect Mr. Redstone's privacy and dignity," another of his attorneys, Gabrielle Vidal, said in a statement after the hearing. "Ms. Herzer's eagerness to subject a 92-year-old man with a severe speech impairment to these intrusive proceedings is offensive."
The dispute has exposed infighting among those closest to Redstone, including his daughter Shari and longtime confidant Dauman, and could impact the ailing media mogul's control over Viacom and CBS. He remains the controlling shareholder of both.
Shari Redstone
Shari Redstone has now replaced Dauman as health-care agent for her father, people familiar with the matter said this month.
After people familiar with the matter said this month that a preliminary agreement to settle the case had been reached, the talks hit "a snag," O'Donnell said Tuesday.
The pretrial depositions of Dauman and Shari Redstone, which had been called off because of the imminent settlement, are back on schedule, O'Donnell said after Thursday's hearing. Vanity Fair reported that the "snag" in the settlement talks involved Herzer's desire to have a final meeting with Redstone.
O'Donnell said Thursday that Herzer feels she has a right to see him. "She wants to have some peace, healing and reconciliation," he said.
The case is In re Advance Health Care Directive of Sumner M. Redstone, BP168725, Los Angeles County Superior Court.
Before it's here, it's on the Bloomberg Terminal.
LEARN MORE