RBNZ's Wheeler Finds Wellington a Tougher Crowd Than Washington
by
Interest-rate leak is latest headache for central bank chief

Bank announces overhaul of monetary policy release process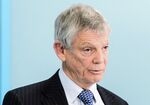 For Graeme Wheeler, the New Zealand central bank chief who once influenced the World Bank's leadership, an interest-rate leak is the latest local challenge that's tripped him up since arriving from Washington.
The former World Bank vice president whose global experience was cited when he was tapped as Reserve Bank of New Zealand governor in 2012, on Thursday announced an overhaul in the release of policy decisions after a journalist was able to leak the surprise rate cut. Wheeler was also rounded on by local economists last month for his own policy communication and has been criticized by the nation's finance minister more than once.
"I think it's probably fair to say there has been a level of frustration amongst the investor community at some of the communication out of the RBNZ over the last 18 months," said Sally Auld, a Sydney-based interest-rate strategist at JPMorgan Chase & Co. "It's an unusual structure at the RBNZ. Wheeler takes advice, but ultimately it comes down to his call so it's a much more singular job. You've got less people to share the blame with if something goes wrong."
Wheeler, 64, is the sole decider of interest rates at the central bank in Wellington, capital of the island nation of 4.5 million people. The communication headaches follow the RBNZ's repeated failure to accelerate inflation as Wheeler had forecast, with the chief having to take back a series of 2014 interest-rate increases.
An RBNZ spokesman declined to comment on criticism of Wheeler's tenure.

The central bank said Thursday that an investigation by Deloitte's forensic unit found that a journalist at local outlet Newshub, a unit of MediaWorks, had e-mailed a draft story of March's interest-rate decision -- where the benchmark was cut to a fresh low of 2.25 percent -- ahead of an embargo agreement. While the inquiry determined that there was no impact on financial markets, Wheeler said in a terse statement that the leak was "a serious and disappointing breach of many years of trust."
During those years, including prior to Wheeler's tenure, the RBNZ had trusted journalists in Wellington to refrain from internet connections during a lock-up period when they reviewed policy decisions. By contrast, some other agencies around the world route connections through a controlled switch. The bank will now publish the announcements on a live basis.
'Integrity'
"The system relied on the integrity of journalists and analysts and had been adhered to for many, many years and then someone broke that," said Peter Jolly, Sydney-based head of market research for National Australia Bank Ltd. "So I don't think you can really pin that on the RBNZ."
Still, the March decision is one Wheeler won't easily forget. He also drew ire from economists following the cut, which came just five weeks after a speech in which he signaled no rush to ease further in response to weak inflation. While the move was prudent given the risks of stubbornly low inflation, "we also need to give the Reserve Bank of New Zealand a brickbat for the extent of its U-turn," Nick Tuffley, chief economist at ASB Bank in Auckland, said at the time.
New Zealand's central bank was credited with establishing the first modern-day inflation target, and that mandate has proved impossible so far for Wheeler to reach. Consumer prices have failed to rise to the mid-point of the 1-3 percent target band he's charged with achieving.
Bill's Blame
The failure spurred criticism from Finance Minister Bill English in 2015, when he said that Wheeler needed to get inflation back to target and raised questions about how closely the Policy Targets Agreement was being followed. Later in the year, English said that raising rates too high in 2014 helped contribute to New Zealand's slower growth.
The Finance Minister is charged with appointing the RBNZ chief, and it will be up to English to approve his reappointment if Wheeler decides to seek a second five-year term in 2017.
"You've got to look at all this stuff in the context that it is not an easy time to be a central banker anywhere in the world," said Auld. "Wheeler wouldn't be the only central banker who is undershooting his inflation target."
Kiwi Dollar
Wheeler started tightening in March 2014, lifting the official cash rate four times that year to 3.5 percent in anticipation of faster inflation. The increases sent the New Zealand dollar above 88 U.S. cents to near a record high in July that year, curbing export returns and damping import prices. The currency traded at 68.56 cents on Friday at 11 a.m. in Wellington.
The central bank's lockup ban also threatens to put Wheeler at odds with English's boss, New Zealand Prime Minister John Key, who later on Thursday said that ending the process may not be the best option, when speaking in Christchurch. Key said that lockups allow media to report with better clarity and authority.
"Central banks can go through rough periods and then when you combine it with events like leaking a decision, it can look as if there's a problem," said Shane Oliver, head of investment strategy in Sydney at AMP Capital Investors Ltd. "It's fair to say that Wheeler's going through a rough patch at the moment."
Before it's here, it's on the Bloomberg Terminal.
LEARN MORE