Noble Group's Alireza Says Markets Tough as Debt Deal Sought
by , , and
`In the end, the market will judge us,' Yusuf Alireza says

Weighted average cost of debt seen about level, CEO says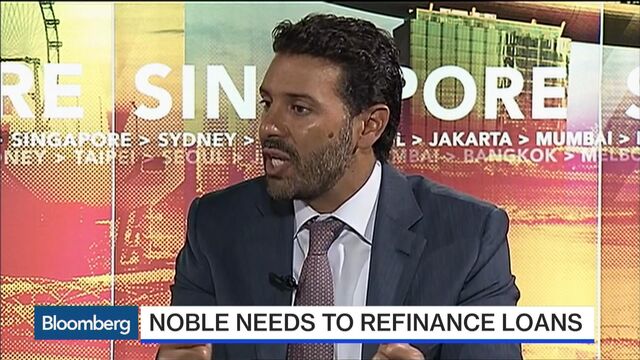 Noble Group Ltd. Chief Executive Officer Yusuf Alireza said that commodities markets remain difficult as he presses on with efforts to refinance the trader's debt.
"To sit here with confidence and say the worst is behind us is just not realistic," Alireza said in a Bloomberg Television interview in Singapore on Thursday. "Our jobs are just to come in every day and do our jobs, focus on the business and deliver results and, in the end, the market will judge us and our investors will judge us."
Asia's largest commodity trader is seeking to chart a recovery in 2016 after a savage year in which it posted the first annual loss in almost two decades, had its credit-rating cut to junk and saw its shares sink along with a rout in raw material prices. While the costs of the group's revolving-credit facility are seen rising, its weighted average cost of debt is expected to remain about the same, Alireza said, speaking ahead of the company's annual general meeting.
"What's important to us is not one transaction, the revolver, what's important is the weighted-average cost of our debt," said Alireza, who was appointed as CEO in 2012. "We actually think our weighted average cost of financing is not going to change that much versus what it has been."
Cost of Debt
The company's average cost of debt was seen rising from an estimated 3.9 percent this year to 4.1 percent in 2017 before dropping back to 3.8 percent in 2018, according to a Noble Group presentation for the AGM. The figures, described as illustrative and based on assumptions, compare with 5.3 percent in 2013 and 4.5 percent in 2014.
Noble Group shares -- which collapsed 65 percent in 2015 and were removed from the blue-chip Straits Times Index -- have climbed 8.8 percent this year to 43.5 Singapore cents by the close of Thursday trading on the city's bourse. Its March 2018 notes have surged in six of the past seven weeks to 77.5 cents on the dollar, up from an all-time low of 40.7 cents on Jan. 22, according to Bloomberg-compiled prices.
Agri Sale
Last year, Alireza strove to turn around the company's fortunes, selling assets to raise cash including the remaining 49 percent stake in Noble Agri Ltd., boosting transparency and taking writedowns. He also fended off attacks on the integrity of its accounting from critics including Iceberg Research, a group that doesn't disclose the identities of its staff.
The Hong Kong-based company is said to be facing higher financing costs to arrange an unsecured loan of at least $1 billion, and is seeking about $2.5 billion in another loan that'll be backed by inventories. During the results briefing in February, Alireza said the company aimed to re-finance before a May deadline.
"Historically, when we had fixed assets like sugar mills and crushing plants, you needed long-term debt," Alireza told Bloomberg TV, adding that in future Noble Group was likely to have a greater share of secured financing. "Now, as most of our assets are inventory, we will fund it with revolvers and borrowing base. The cost of borrowing base, which is secured financing, is much lower."
Commodities dropped 25 percent in 2015, falling for a fifth straight year, as gluts of everything from from crude oil to base metals hurt prices. The slump in raw materials had been driven by an excess of supplies, according to Alireza, who said that the global oil market had probably now passed its worst.
"In the oil market we have probably seen the lows," Alireza said. West Texas Intermediate "got down to $25. Could it get back down over the next few months to $30 to $35? Yes. But in two years' time, $30, $40, $50 is not the right number to incentivize new exploration in traditional oil, and to meet demand." WTI is up 13 percent this year at $42 a barrel in New York.
Before it's here, it's on the Bloomberg Terminal.
LEARN MORE