Moscovici Tells Spanish Lawmakers Deficit Goal Needs More Time
by
Spain has been under EU's budget correction process since 2009

Commission to deliver verdict on 2015 budget breach next month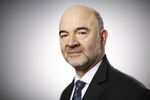 Economic Affairs Commissioner Pierre Moscovici told a group of Spanish lawmakers in the European Parliament that he realizes Spain may need more time to cut its budget deficit.
Spain is supposed to reduce its budget shortfall to 2.8 percent of gross domestic product this year though the commission projects the government will miss that target after its consolidation efforts veered off track in the runup to December's election.
The commission issued a warning last month asking Acting Prime Minister Mariano Rajoy to enforce existing rules to control expenditure, especially at the regional level. Spain posted a deficit of 5.1 percent last year, though Rajoy's officials vowed right up to polling day that they'd meet the goal of 4.2 percent, despite a round of pre-election tax cuts.
"He knows that it's not credible for Spain to comply with so much deficit reduction in one year," said Jonas Fernandez, a lawmaker in the European assembly, who was among a group of Spanish Socialists who met with Moscovici Tuesday in Strasbourg, France. "He didn't mention any specific amount of extra time."
Spanish Socialists want the commission to give Spain two extra years to bring its deficit below the European Union's 3 percent limit, Fernandez said. Socialist leaders in Madrid are struggling to patch together the three-way alliance they need to oust Rajoy, who lost his majority in December, making a repeat election in June increasingly likely.
The euro area's fourth-largest economy has been under the commission's excessive-deficit procedure since 2009, when tax revenue collapsed in the aftermath of a decade-long real estate bubble. Although Rajoy has almost halved the budget gap since arriving in office in December 2011, he has persistently missed his target even as the economic recovery gained momentum. The commission already gave Spain an extension on its deficit targets in 2013.
Before it's here, it's on the Bloomberg Terminal.
LEARN MORE