Key Oil Market Indicator Shows There's More to Rally Than Freeze
by
Supply losses in North Sea, Nigeria, Iraq boost Brent spread

Goldman see spreads weakening again as disruptions ease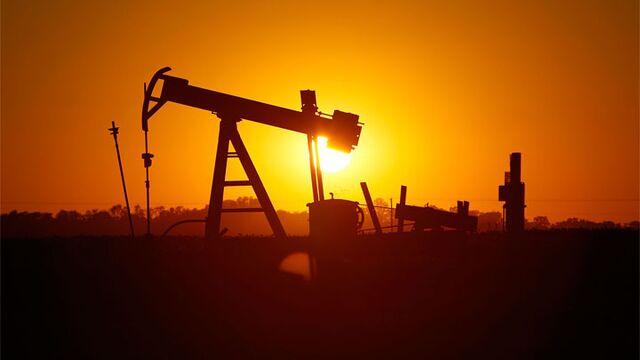 OPEC and Russia might like to take all the credit for oil's recovery with their plan to freeze production. Futures prices show that's not the whole story.
While much of the 30 percent rally in Brent crude futures over the past two months has stemmed from the producers' dialogue, a diminishing contango -- where oil for short-term delivery is cheaper than later shipments -- shows that markets are also feeling the loss of supplies from a number of areas, from the North Sea to Nigeria and Iraq.
The front-month Brent contract, June, is trading at a premium to the subsequent month for the first time since January, a condition known as backwardation that typically signals short-term supplies are being strained by demand. It encourages refiners to process barrels straight away, rather than compound any glut by piling them into storage.

"Brent is flirting with backwardation because of supply outages in Nigeria and North Sea field maintenance," said Harry Tchilinguirian, head of commodity markets strategy at BNP Paribas SA in London. "At best, the Doha meeting is aiming to maintain the status quo in supplies. But these outages are ultimately more important, as they effect a change in the oil balance."
The flattening of the prompt Brent spread is the most dramatic expression of a trend across oil markets. Even in the U.S., where crude stockpiles are 140 million barrels above average, the year-ahead contango has shrunk markedly as the nation's production from shale fields falters under the weight of sub-$50 prices.
The Brent market has been in contango for most of the past two years, as booming U.S. shale production triggered a global surplus that the Organization of Petroleum Exporting Countries decided not to tackle.
North Sea oilfield halts are scheduled to occur at the same time refineries in the Atlantic basin typically bolster operating rates to meet summer gasoline demand. ConocoPhillips said it plans 'significant' maintenance at both Ekofisk and J-Area oil fields without specifying dates. The Ula, Valhall and Tambar fields will halt for summer work coinciding with Ekofisk, BP Plc said on April 6.
Nigeria is producing the least crude since 2009, at about 1.7 million barrels a day, because of attacks on a pipeline carrying its Forcados crude grade, according to the International Energy Agency. Iraq's production has been curbed by about 200,000 a barrels a day since January, averaging 4.2 million a day last month, as a result of disruptions on the export pipeline running from the Kurdish region to Turkey, the IEA said.
The narrowing spreads may reflect not just these transient disruptions, but also that the overall re-balancing of the market is in progress as lower prices take their toll on production around the world, according to Citigroup Inc.
"You can point to the tightness in Brent spreads and say it's because of field outages or the Iraq pipeline blow-up -- you can sort of make excuses," said Seth Kleinman, head of European energy research at Citigroup in London said by phone. "But this is supposed to be the max bearish point for the market and it doesn't look bad. The story of supply faltering is starting to play out."
Still, with much of the strength stemming from temporary outages, it may not be long before Brent spreads weaken again, according to Goldman Sachs Group Inc. and Barclays Plc. The "recent flattening of the Brent forward curve is only transitory," Goldman's head of commodities research, Jeff Currie, said in a report.
"This backwardation in the market is largely the result of these unplanned outages tightening balances," and effectively eliminating the surplus estimates for the second quarter, Miswin Mahesh, an analyst at Barclays Plc in London, said by phone. "If these unplanned outages were to be resolved, it could soften market balances again."
Before it's here, it's on the Bloomberg Terminal.
LEARN MORE