The High-End VR Headset Reviewers Love May Not Sell
By
CEO Cher Wang bets on new Vive headset to help revive sales

Manufacturer faces competition in virtual-reality market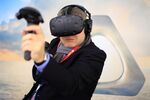 HTC Corp.'s foray into virtual-reality headsets comes straight out of the company's playbook: they're powerful, stylish and priced at a premium.
Cher Wang, HTC's co-founder who took over as chief executive officer last year, is betting that virtual reality represents the future of computing. Yet so are Facebook Inc.'s Mark Zuckerberg, Sony Corp. and other companies with more influence over how people use and interact with technology. So far, reviewers have given the $799 HTC Vive high praise, saying that it offers a vivid experience that rivals or even tops machines such as Facebook's Oculus Rift and Sony's PlayStation VR. What remains to be seen is whether Wang can turn that enthusiasm into sales.
"The total addressable market for VR is not big enough for a turnaround," said Jeff Pu, an analyst at Yuanta Sec Investment Trust Co. "In the long term -- three to five years -- I still don't think virtual reality will drive HTC's recovery."
The Taiwanese manufacturer has a history of making hardware that tech geeks rave about, only to stumble when it comes to reaching consumers with the right marketing and distribution. HTC packed advanced technology into its phones, which ended up costing more than rival devices. Marketing efforts weren't enough to spark demand, and inventories piled up.

The past few years have been brutal for HTC. Once the best-selling smartphone brand in the U.S., HTC's market share dwindled to 1.5 percent in 2015 from 9.3 percent in 2011 amid competition from Samsung Electronics Co., Huawei Technologies Co. and Xiaomi Corp. Sales have dropped more than 70 percent since 2011. As a result, HTC said last year that it would cut staffing by more than 15 percent. Representatives from HTC didn't respond to requests for comment.
The company is also sticking with its strategy of building top-of-the-line smartphones running Google's Android mobile software. This week, the company unveiled the HTC 10, which will cost $699 and ship early next month in the U.S. Early reviews have been positive, but like HTC's previous high-end phones, Richard Ko, an analyst at KGI Securities, remains skeptical that the newest flagship product will make a difference for HTC, given the intense competition. 
For now, only the most dedicated enthusiasts -- especially gamers -- are willing to pay the high prices that virtual-reality devices command. Consumers have to not only shell out about $800 for the Vive, but then also connect it to a powerful, expensive personal computer. The same goes for the $600 Rift, while Sony's headset works with the PlayStation 4 and costs $400.
Virtual-reality headset shipments are expected to reach 3 million this year, according to Juniper Research, a number that pales in comparison with Gartner Inc.'s forecast for 1.5 billion smartphone unit sales. Kylie Huang, an analyst at Daiwa Securities Capital Markets, estimates that HTC will ship about half a million headsets this year -- but would have to sell 5 million just to make up for losses in its smartphone business. Huang recently downgraded her rating on HTC to sell, and titled a recent report: "HTC Vive: not enough to save HTC."

Still, with Gartner predicting that virtual reality headset sales will reach $21 billion by 2020, it could become an important product category for HTC if the company is able to gain share and fend off rivals. KGI's Ko said that virtual reality products could revive HTC, especially if they find uses beyond gaming.
"It's still a niche product but the potential is huge -- not only with gaming but with lots of potential uses," Ko said. "If we give the company more time, there's a chance for the VR business to do well."
As the market matures, HTC may also suffer from being a hardware-first company. Pu predicts companies making superior software will dominate the market, because hardware is easily replicated and prices fall fast. HTC relies on video-game developer Valve for Vive's software. Sony and Facebook, on the other hand, have spent years developing and perfecting their own software.
"Sony already has support from software developers -- HTC is newer to the market," Huang said. "We need to see how many games or applications can be created after the product is in the market. There's a lot of uncertainty there."