German State Fighting Tentacles of Tax Fraud Wants Banks Liable
by and
Panama Papers leak emboldens North Rhine-Westphalia crackdown

Banks don't do enough to expose tax loopholes, minister says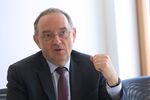 Norbert Walter-Borjans, the finance minister of the German state of North Rhine-Westphalia, has stopped at nothing in his quest to bring tax evaders to justice, even resorting to the purchase of leaked bank data in his pursuit of outstanding dues.
The publication of the Panama Papers, more than 11 million documents exposing the use of shell companies and the financial dealings of some of the world's richest people, has made him even more resolute in his campaign as he calls for more accountability from banks and a better exchange of information between countries.
Financial institutions don't do enough to point out loopholes in the law and in some cases even exploit them for their own gain and the gain of their clients, Walter-Borjans, 63, said in an interview in Berlin. Tougher sanctions against banks are not included in Germany's 10-point plan to tackle international tax havens prompted by the Panama Papers.
Tax Loopholes
"As institutions underpinning the state, banks should be obliged to draw attention to loopholes in the law, not use them to create business," he said. "Because banks are systemically important in so many areas, they should be made more accountable, right up to and including a revocation of their license. That's why we bailed them out."
Walter-Borjans's unorthodox methods have resulted in 6 billion euros ($6.8 billion) in additional tax revenue since he began buying CDs that revealed secret bank accounts of North Rhine-Westphalia residents in 2010. North Rhine-Westphalia and the states of Baden-Wuerttemberg and Lower Saxony have used their influence in Germany's upper house of parliament, made up of representatives of the country's 16 states, to force tougher measures against white-collar crime.
With an area bigger than Belgium and an economy comparable in size to Switzerland, Germany's most populous state has introduced amnesty programs and other measures, spurring an increase in the number of voluntary self-disclosures to avoid criminal prosecution in the minister's crackdown.
Federal Finance Minister Wolfgang Schaeuble has criticized the purchase of CDs in the past, arguing it helped scuttle a pact with Switzerland to combat tax fraud.
Leaked Data
The Panama Papers show that the evasion exposed to date is merely the tip of the iceberg, Walter-Borjans said. He plans to continue to use leaked data until a better system fostering cooperation between jurisdictions is in place. In his 10-point plan, presented on April 11, Schaeuble is pressing for a register of beneficial company owners, a monitoring system for the automatic exchange of information and black lists for non-compliant states, such as Panama.
"It is not my goal to buy more CDs, if we can achieve tax fairness by other means," Walter-Borjans said. "So far, all we have managed to do is grab the tentacle of an octopus in the fight against tax evasion."
Once a satisfactory exchange of information between countries has been achieved, such methods "become redundant," he said. "But as long as there are CDs that can be exploited, that exchange of information doesn't appear to function, and I will not give up this practice."
Walter-Borjans called on federal lawmakers to support an initiative of Germany's 16 states to increase the pressure on banks.
"It's not enough to simply point the finger at individual bank employees," he said. "It must also be possible to make the bank accountable. And this shouldn't be a long drawn-out process that produces a penalty that is laughable in the end. Compared with the U.S., the sums that banks face are minimal."
Before it's here, it's on the Bloomberg Terminal.
LEARN MORE