European Commissioner: The Panama Papers Endanger the European Union
by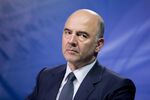 Public furor in the wake of the Panama Papers poses an ongoing danger to the European Union, said Economic Affairs Commissioner Pierre Moscovici.
Millions of leaked documents released earlier this month provided information on where and how global elites—including politicians—shielded wealth by using accounts domiciled in tax havens.
In an interview at the Peterson Institute for International Economics as part of the International Monetary Fund/World Bank spring meetings, Moscovici noted that the intense press coverage and public fixation with the revelations were unlikely to fade.
"It is a shock, and I am certain that it is not ended—that the preoccupation of media, of citizens, for a long time will be pinpointed on those issues," he said. "This is a danger. It is a danger because if we don't address these issues, it will benefit the populists."
Populist parties have gained strength across the European Union in the wake of a prolonged stretch of sluggish economic growth, the imposition of austerity measures, and the migrant crisis.
As many of these groups favor the rolling back of European Union powers, the danger posed by the publication of the Panama Papers is somewhat existential in nature.
Without decisive action on this front, Moscovici warned, citizens would take a "pox on all your houses" stance against politicians, large corporations, and elites that would further empower these once-fringe movements.
"If we don't act strong enough, then we will create even more populism in Europe, and as you know populism is everywhere in Europe," he stressed.
Austria, Romania, Cyprus, the Czech Republic, and Lithuania are all slated to hold presidential or legislative elections in 2016, while Ireland and Spain may be forced to rerun inconclusive elections in the coming months. Meanwhile, the U.K. is also due to hold its Brexit referendum in June. Looking further ahead, a German federal election is likely to take place in the second half of 2017. 
Moscovici added that the Panama Papers were also an opportunity, as they gave reformers needed momentum to pursue measures to aggressively curb and punish tax evasion. Taking action on this front must be a political priority not only for European Union member states but for other countries around the world, he said.
His peers appear to be on board with this message. A person familiar with a Group of 20 draft document told Bloomberg News that officials are likely to recommend that Panama participate more actively in the exchange of tax information.
Before it's here, it's on the Bloomberg Terminal.
LEARN MORE