Irish Raise Money at Record-Low Cost as Kenny Loses Again
by
Irish acting prime minister loses third vote to be PM

Ireland sell 750 million euros of debt at yield of 0.817%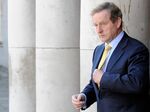 Ireland raised money for 10 years at a record-low cost, as investors brushed off the country's political standoff.
The nation's debt office sold 750 million euros ($845 million) of 2026 bonds at a yield of 0.817 percent on Thursday in Dublin, as the European Central Bank's quantitative-easing program drove down financing costs. At the last auction of these securities, on Feb. 11, the debt office sold 1 billion euros of the bond at a yield of 1 percent.
"Demand was strong," said Ryan McGrath, head of fixed-income strategy at Cantor Fitzgerald LP. "Fears around the domestic political situation and the looming Brexit vote failed to materialize."
Later on Thursday, not far from the debt agency's headquarters, acting premier Enda Kenny lost a third vote to be prime minister, this time by 77 votes to 52.

Senior cabinet ministers have suggested a third defeat for Kenny probably won't fatally wound him. Instead, it will raise the pressure to reach an accord with principal rivals Fianna Fail that would allow him to lead a minority administration. The two parties have been locked in talks this week, after Fianna Fail rejected Kenny's offer of an unprecedented grand coalition. On Thursday, Kenny invited Martin to resume talks, with parliament due to meet again on April 20.
"What we do know is that a minority government is now really the only show in town," said Dermot O'Leary, an economist at Goodbody Stockbrokers in Dublin. "It's either that or another election in the coming weeks. The difficult aspect is to work out how exactly a minority government will work in practice."
Investors have thus far remained sanguine about the political twists and turns. Thursday's auction drew total bids of 1.7 billion euros, 2.4 times the amount on offer, the debt agency said. In February, the ratio was 1.8. The spread between benchmark Irish bonds and German securities of a similar maturity has narrowed to 69 basis points from 83 basis points since the election.

In part, that's because Mario Draghi is the backstop. Since he became ECB president in November 2011, Draghi has slashed interest rates and expanded and extended an asset-purchase program.
Moreover, the Irish economy is growing at the fastest pace in the euro-region, debt is falling and unemployment is dropping.
"Ireland can afford a brief spell of political uncertainty," said Alan McQuaid, chief economist at Merrion Capital Group Ltd. in Dublin. "It is no great surprise that market reaction to the result has been muted, with no serious negative fallout at this stage from either the Irish stock market or Irish government bonds."
Before it's here, it's on the Bloomberg Terminal.
LEARN MORE