Election Rout May Scuttle Call for Bank of Korea Debt Buying
by and
Park's party had proposed central bank purchase more bonds

Other economic bills proposed by Park also expected to stall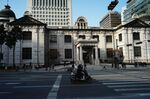 The election setback suffered by South Korea's ruling party is expected to undermine its push for more aggressive action by the central bank, including debt purchases, Goldman Sachs Group Inc. and KB Investment & Securities Co. said Thursday.
In its campaign platform released last month, the ruling Saenuri party suggested that the Bank of Korea buy bonds issued by the state-run Korea Development Bank to provide more funds for restructuring companies, and purchase mortgage-backed securities to help extend loan maturities and ease nation's household debt burden. The central bank doesn't have a mandate to directly buy the securities; the parliament would need to approve the changes.
The thinking could have been that BOK's purchase of longer-dated mortgage-backed securities would be to lower longer-term borrowing costs and allow households to borrow for an extended term, according to Dongbu Securities Co.
While the ruling party didn't directly call for a rate cut, its proposal for more action by the central bank led some investors to think the BOK would further lower rates, said Kim Sang Hoon, a fixed-income analyst for KB Investment & Securities in Seoul. "There is a high likelihood that the so-called Korea-style quantitative easing suggested by Saenuri will fail to be realized," he said.

With all of the ballots counted, the Saenuri Party won 122 parliamentary seats in Wednesday's election, fewer than the 146 it now holds in the 300-seat National Assembly, according to the National Election Commission. The opposition Minjoo Party won 123 seats with the People's Party securing 38 seats.
The election results also leave uncertain whether other economic proposals championed by President Park Geun Hye can gain momentum. She is limited to one term; the next presidential election will take place in late 2017.
Park's Economic Agenda
Many items on "President Park's economic agenda, including corporate restructuring and labor market reforms, are likely to see delays," said Oh Jung Gun, an economist at the Korea Economic Research Institute, adding that Park's grip on power will weaken.
An overhaul of labor laws and service industries had been key to Park's goal of achieving 4 percent growth by the end of her term. She proposed alleviating restrictions on hiring contract workers to increase employment and to inject competition into the medical, tourism and other service sectors. 
The yield for South Korea's three-year government bond rose three basis points to 1.5 percent as of 11:49 a.m. in Seoul, the highest this month, prices by Korea Exchange show. The yield on five-year debt rose four basis points to 1.61 percent.
The benchmark Kospi Index surged 1.2 percent, poised for the highest closing level since December, as stocks caught up with a global rally after Wednesday's holiday for voting in South Korea. Banks and shipping companies led gains amid signs of improvement in China's economy.
While the ruling party called for bolder monetary stimulus, the main opposition party favors fiscal expansion such as tax increases for high earners, Goldman Sachs economist Kwon Goohoon wrote in a report. The ruling party's setback suggests that this idea would lose traction, though the BOK may cut rates this quarter as warranted by economic conditions, Kwon said.
The central bank's board next gathers April 19 to review the key rate, which has been unchanged at 1.5 percent since June 2015. It also releases updated growth and inflation outlooks.
Fiscal Stimulus  
With the election over, the focus of both the ruling and main opposition party could turn to boosting the economy, which would include an extra fiscal budget, according to Dongbu Securities Co.
South Korea's Finance Minister Yoo Il Ho said in an interview with Bloomberg this week that the nation has room to lower borrowing costs and issue more debt if such expansionary policies are needed to help the economy meet its 3.1 percent growth target for 2016.
"It seems a matter of fact that Korea's growth rate would decline if no policy action is taken," said Moon Hong Cheol, a Seoul-based fixed-income analyst for Dongbu Securities. "There may be disagreements on the ways of financing, but I expect parties of both sides to agree on the need for more fiscal spending. If this happens, policy makers would want coordination from monetary policy -- a rate cut."
Before it's here, it's on the Bloomberg Terminal.
LEARN MORE