Bombardier Said Near Signing Delta in Largest C Series Order
by , , and
Airline mulling deal for as many as 75 firm orders, 50 options

Agreement would provide boost for struggling jetliner program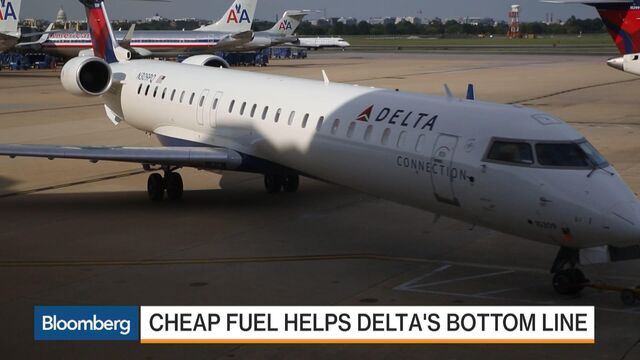 Bombardier Inc. is near an agreement to sell as many as 75 C Series jetliners to Delta Air Lines Inc., a person familiar with the talks said, a deal that would be the largest to date for its struggling aircraft program.
Delta also is seeking options for 50 more of the single-aisle jets to replace some of the oldest and smallest planes in its fleet, said the person, who asked not to be named because the talks are private. The carrier's potential commitment for 125 of the carbon-fiber aircraft would equal half the total orders Bombardier already has in hand.
A victory would be all the sweeter for Bombardier, if it prevails, because Delta is one of the industry's most influential aircraft buyers and planemakers Airbus Group SE, Boeing Co. and Embraer SA also have been in contention. The Canadian manufacturer would have to chop prices to overcome some of the high costs to Delta of adding a new model, such as retraining pilots and stocking up on spare parts, said George Ferguson, senior analyst for aerospace and airlines at Bloomberg Intelligence.

"Bombardier needs this order. The challenge here for the manufacturers is being very aggressive," he said in an interview. "Even if Bombardier gets the order, it's going to be painful price-wise."
A final decision hasn't been made, Delta said in an e-mailed statement, while a Bombardier spokeswoman declined to comment. That leaves open the possibility that another planemaker could still steal Bombardier's thunder with a last-minute deal. Bloomberg News reported Friday that Airbus is poised to win an order from Delta for at least 30 A321 single-aisle jetliners, according to people familiar with the plan.
Marquee Customer
The stakes are high for Bombardier, which is still trying to land a marquee U.S. customer for the C Series. United Continental Holdings Inc. twice this year opted for Boeing's 737 rather than the Bombardier plane. Bloomberg News reported Friday that Delta was nearing a decision on upgrading its single-aisle fleet as it seeks to replace its McDonnell Douglas MD-88 workhorse jets.
A firm order for 75 CS300s, the Bombardier jet closest in size to the quarter-century-old MD-88s, would be valued at $6.15 billion based on the $82 million list price although the deal terms could be substantially smaller. Boeing reportedly sold similarly priced 737-700s to United for as little as $22 million apiece, Goldman Sachs said in a research note last month.
Bombardier climbed 5 percent to C$1.67 at 12:47 p.m. Friday in Toronto. Shares jumped 11 percent Thursday after the Wall Street Journal reported on the potential Delta deal. A pact is expected to be completed by the end of this month, the newspaper said.
Commercial Debut
The state-of-the-art C Series, with a composite frame and efficient fuel consumption, is more than two years late and more than $2 billion over budget as it nears its commercial debut at Deutsche Lufthansa AG's Swiss International unit in the third quarter. Montreal-based Bombardier has received a commitment for a $1 billion investment from the province of Quebec. The planemaker is seeking a similar infusion from the Canadian government and rejected an initial investment proposal, partly over corporate governance, people familiar with the talks said.
Delta has been in talks with the four planemakers as it scouts replacements for 116 MD-88s, which have an average age of 25 years, as well as 50-seat jets flown by regional affiliates. A C Series deal wouldn't preclude the airline from ordering from other manufacturers, Ferguson said.
"Delta's a big enough airline that they could take a little bit from everybody, play the manufacturers off each other," he said.
The order would be the first since Ed Bastian was named in February to be the airline's next chief executive. The carrier gained a reputation for shying away from cutting-edge aircraft until they were well-proven under CEO Richard Anderson, who is retiring next month. Delta said in January that it was considering the C Series as the airline phases out some of its smallest jets.
Delta's earnings excluding some items rose to $1.32 a share in the first quarter, exceeding the $1.30 average of 14 analysts' estimates compiled by Bloomberg. Sales were $9.25 billion, slightly below the $9.27 billion estimate of analysts. Its earnings report Thursday, the first of the quarter for U.S. carriers, gave a boost to other airline stocks.
Before it's here, it's on the Bloomberg Terminal.
LEARN MORE