China's Worst Stocks Are Making a Surprise Comeback
Bloomberg News
Raw material producers are leading the rebound in China shares

Rally fueled by bets on economic stimulus, capacity cuts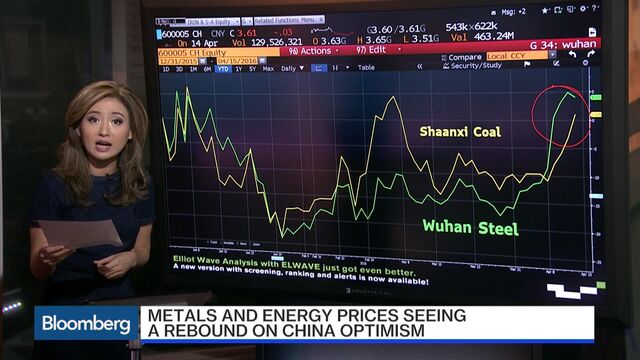 Meet the new winners in China's stock market: state-run enterprises churning out raw materials.
After being the worst mainland equity investments over almost a decade, commodity producers are leading this year's rebound as the Communist Party ramps up spending to stimulate the economy and pledges to cut capacity in bloated industries grappling with falling demand and slumping prices. Among the biggest beneficiaries are Wuhan Iron & Steel Co. and Shaanxi Coal Industry Co., with gains of more than 27 percent.

Investors are taking another look at companies previously written off as victims of China's transition to a services-oriented economy from one driven by massive investment in infrastructure. While Credit Suisse Group AG says gains in metal and energy producers may continue for another couple of months, the brokerage is tipping gains to fizzle in the second half of the year.
"The government is going back to its old path of relying on the property market and investment for growth and the motivation for reforms isn't too strong," said Chen Li, a strategist at Credit Suisse. "So they will be conservative in cutting capacity."
Fevered Rally
A measure of materials producers has jumped 26 percent since this year's January low through Thursday, the best performer among industry groups on the large-cap CSI 300 Index, which has advanced 15 percent. Energy shares rallied 18 percent. Overseas investors haven't been immune to the new-found fever in Chinese commodities, with Yanzhou Coal Mining Co. and Anhui Conch Cement Co. jumping almost 60 percent in Hong Kong in just two months.
China reported the economy grew 6.7 percent in the first quarter on Friday, in line with estimates, while industrial output in March beat expectations. To boost growth, the government is lifting the fiscal deficit target to 3 percent of GDP from 2.3 percent in 2015 and allowing a higher money supply goal. The top planning agency is also increasing the amount of money available to local governments under a special infrastructure bond program, people familiar with the matter have told Bloomberg.
At the same time, Premier Li Keqiang promised last month the government would press ahead with plans to cut overcapacity in state-owned sectors without massive layoffs -- a premise questioned by Invesco Ltd.
Need Help
"It's anybody's guess on the timing of those supply reforms and how effective they are," said Paul Chan, the Hong Kong-based chief investment officer for Asia excluding Japan at Invesco, which oversees $772 billion globally. The rally in commodity shares are "a bounce from oversold position. I do have my reservation about how quickly they can shut those capacities."
The gauge of materials producers dropped 0.8 percent at the close on Friday, the biggest loss among industry groups, while the CSI 300 Index fell 0.1 percent. Angang Steel Co. and Baoshan Iron & Steel Co. led declines.
There's no doubt China's state-owned raw material companies need all the help they can get. Producer prices have fallen for four years, while unused capacity has ballooned. Coal output will probably reach 3.7 billion tons this year, leaving more than 20 percent of capacity idled, after crude steel-production capacity reached a record 1.2 billion tons at the end of last year, according to Chinese industry groups.
Mainland-listed coal companies probably posted an average drop in earnings of 89 percent to 96 percent in 2015, according to Changjiang Securities Co. Net income at Baoshan Steel, one of the country's largest producers whose shares jumped 21 percent in the past two months, slumped 83 percent from the year earlier. China's steelmakers account for half of global production.
Inventory Restocking
Optimism the Communist Party will succeed in stabilizing growth has fed into higher metal and energy prices in recent weeks, helping fuel gains in the country's producers. Replenishing inventory and an improving property market have also lifted prices, according to Bocom International Holdings Co.
Steel reinforcement-bar in China, a benchmark product used in construction, has surged 51 percent since its December low, according to Beijing Antaike Information Development Co. Oil futures have rebounded in New York after falling to the lowest level in more than 12 years in February, while the price of coal at Qinhuangdao port climbed to the highest since October at the end of last week.
"The current rebound in commodities is driven by the inventory restocking cycle that typically starts in spring every year," said Hao Hong, Bocom's chief China strategist in Hong Kong. "What makes this year different is the visible recovery in the property sector, and increased spending in infrastructure. Consumption-based economy will take years to emerge, and is the epitome of an aged society."
Biggest Losers
Before shares rebounded, the CSI 300 materials and energy indexes were trailing the broader gauge by a record. Even after the gains, the two industry groups are down more than 45 percent since the CSI 300 sub-indexes were first compiled in 2007, compared with a 13 percent drop for the broader gauge. Their combined weighting in the measure of stocks traded in Shanghai and Shenzhen has declined to about 10 percent from almost 30 percent in 2007.
Khiem Do, the Hong Kong-based head of multi-asset strategy at Baring Asset Management, sees no lasting future in the rebound.
"The natural positioning of fund managers is to not own any of it, especially when there's so much excess capacity in these industries, pricing is terrible, too much supply, little demand," Do said. "Our equity philosophy is to focus on sustainable growth and quality growth. If that is the case, based on the current structure we cannot say that it is a sustainable long-term growth business."
— With assistance by Shidong Zhang, and Kana Nishizawa
Before it's here, it's on the Bloomberg Terminal.
LEARN MORE