Brexit Campaign Offers `Project Fantasy', Pro-EU Darling Says
by
Canada-style trade deal could shrink commerce by $130 billion

Darling follows Miliband, Corbyn as Labour engages in campaign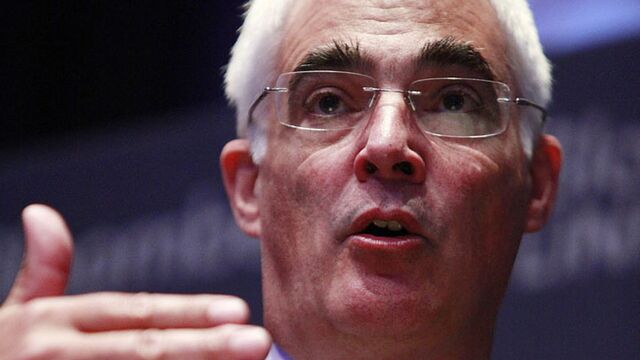 Former Chancellor of the Exchequer Alistair Darling will criticize what he calls the "Project Fantasy" being promoted by campaigners for a British departure from the European Union, saying a so-called Brexit is likely to deplete trade with the continent. 
QuickTake Will Britain Leave the EU?
If the U.K. left the 28-nation bloc and negotiated a new trade deal in the mold of Canada's, commerce with the EU may decline by 92 billion pounds ($130 billion), Darling is due to say in a speech in central London. Citing new research from Frontier Economics and London First, a nonprofit business group which promotes the capital's interests, he'll dismiss the notion Britain can secure a better trading relationship outside the bloc.
"Leaving is not a cost-free, risk-free experiment," Darling will say on Friday, according to remarks e-mailed by the Britain Stronger in Europe campaign. Brexit campaigners "can't guarantee trade without tariffs, which would push prices up. They can't guarantee investors won't leave Britain, risking jobs. They can't guarantee our service sector will have free access to Europe, hitting growth."
Darling's speech is on the first day of the official referendum campaign and ten weeks before the June 23 vote, and comes as the opposition Labour Party ramps up its campaign to stay in the bloc. Labour leader Jeremy Corbyn, a longstanding Euro-skeptic who voted to leave the then European Economic Community in 1975, made his biggest intervention on the debate Thursday, saying it was better to stay in the bloc "warts and all" to promote social justice, protect the environment and tackle tax avoidance.
"If we choose to remain, we will retain our ability to shape international co-operation over development, human rights, intelligence-sharing and security, climate change, global commerce, peace-keeping, the behavior of multinational companies and working people's rights," according to Darling, who served under Labour prime ministers Tony Blair and Gordon Brown. "In a complex and fast-changing world, when the defining decisions are taken, Britain will be at the table."
The "remain" campaigners have focused on the Canadian trade deal with the EU since London Mayor Boris Johnson, the most prominent "Brexiteer," on March 11 suggested Britain could forge a similar agreement. He's since rowed back on those comments, saying he wants a "British deal" rather than a Canadian one.
Britain Stronger in Europe on Wednesday was designated the official campaign group for the "remain" vote, and is subject to strict spending limits. It will receive a state grant of as much as 600,000 pounds ($850,000) and be permitted to spend as much as 7 million pounds over the 10-week campaign period. The Vote Leave organization was named the official "leave" campaign, a decision that rival group Leave.EU, which backed Grassroots Out, said Thursday it wouldn't challenge. Expenditure by non-official campaign groups is limited to 700,000 pounds.
Unlike Prime Minister David Cameron's ruling Conservative Party, which is divided over the referendum, Labour overwhelmingly supports continued EU membership. At the same time, the party's biggest names have been relatively quiet on the matter until this week, with interventions by former Foreign Secretary David Miliband, the party's former business spokesman, Chuka Umunna, and by Corbyn all preceding Darling.
Before it's here, it's on the Bloomberg Terminal.
LEARN MORE