Bank of England Notes Warning Signs as Brexit Vote Approaches
by and
Minutes of the April meeting list factors in the spotlight

BOE says hiring, investment intentions may already be dipping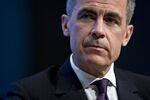 Mark Carney has already called the U.K.'s referendum on its European Union membership the biggest risk to domestic financial stability. Now he's given some insight into what officials are looking at as they fret about the economic outlook.
QuickTake Will Britain Leave the EU?
With the vote just over two months away, the increased uncertainty may already be affecting confidence among executives as well as companies' willingness to borrow, invest and hire. Minutes of policy makers' April meeting also put the referendum in the spotlight for hitting share sales and private-equity deals, and commercial real estate transactions.
To assess the level of nervousness, the BOE cites Deloitte's survey of chief financial officers. Here's what it shows.

"There had been some signs that increased uncertainty might be beginning to weigh on demand," the BOE's Monetary Policy Committee said on Thursday. "Business surveys had reported a softening in investment intentions, consistent with expenditure decisions being deferred pending the outcome of the referendum."
Here's a measure of companies' hiring intentions from the Recruitment and Employment Confederation. This isn't the first time political uncertainty has had an impact on employers' plans to hire -- they fell in the run-up to last year's general election, too.

If companies are potentially delaying investment plans, that means less need to borrow.

"Some lenders had reported that, notwithstanding still-favorable credit availability, the demand for finance from some large companies had dipped somewhat, partly reflecting EU referendum uncertainty," the MPC said. This also played a "significant role" in the 40 percent drop in commercial real estate deals in the last quarter, it said.
It also cited reports that some share sales and private-equity deals had been delayed and said that "taken together, these developments highlighted the risk that the economy could slow somewhat" this quarter.
Officials also assessed the implications for monetary policy if the U.K. votes to quit the bloc. In an ominous paragraph in the minutes, they said a Brexit could mean an "extended period of uncertainty" about the outlook and prospects for exports. This would push down demand in the short run and could even affect the structure of the economy and slow technological innovation.
They also warned it may:
Have "significant implications" for asset prices and the pound
Increase uncertainty regarding the supply side of the economy, "reflecting any alterations to product or labor market regulation"


The risk to sterling can be seen in the options market, where the cost of hedging contracts is near the most on record.

With all this ahead, the economy is already showing some signs of weakening. Here's the National Institute of Economic and Social Research's estimate for the first quarter: growth of 0.3 percent, the least since 2012.

Before it's here, it's on the Bloomberg Terminal.
LEARN MORE