Brazil Real Gains as Impeachment Blunts $20 Billion Intervention
by and
Currency is the best performer among major tenders this month

Policy makers sold $6 billion of contracts on Thursday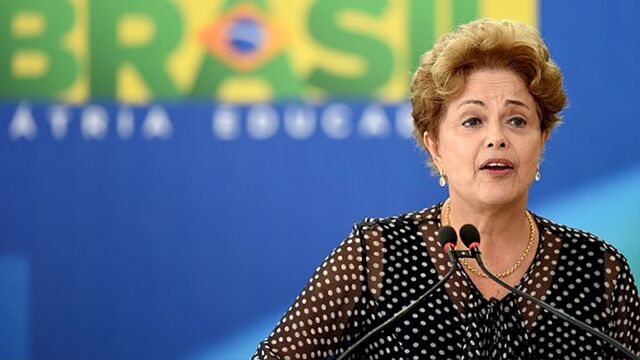 Brazil's real advanced to its strongest level in eight months as speculation that president Dilma Rousseff will be impeached offset policy makers' attempt to weaken the real.
The currency advanced 0.4 percent to 3.4829 per dollar in Sao Paulo, after declining as much as 1 percent earlier. The central bank sold $6 billion of reverse-swap contracts designed to reduce the real's value on Thursday, bringing the intervention this week to $20.3 billion. Officials are acting to stem gains after Brazil's currency was the world's best performer in the first quarter on speculation the President Dilma Rousseff was headed for impeachment.

Brazilian assets have soared this year on the prospect that a new government will be able to restore growth and curb a record budget deficit, with the currency, stocks and corporate bonds all among the world's best performers. Beginning last month, policy makers started selling contracts to weaken the currency in a bid to keep it from appreciating so much that it impairs the competitiveness of Brazil's exports.
"Nobody wants to be long in dollars at this moment," said Jefferson Rugik, a currency trader at brokerage Correparti Corretora de Cambio in Curitiba, Brazil.
Newspaper O Estado de S.Paulo reported a growing number of lawmakers favor the president's impeachment at a lower house vote scheduled for Sunday. Still, more steps, taking at least several weeks, would be required before she's removed from office.
The central bank sold $6 billion of reverse swaps Thursday after selling $5.25 billion on Wednesday and a record $8 billion of the contracts Tuesday. It had sold $1 billion of reverse swaps Monday. The program was re-introduced last month after three years of efforts to bolster the currency. The total outstanding position of swap contracts in Brazil's market was $97.4 billion as of April 13, according to central bank data compiled by Bloomberg.
"Recent impeachment polls have certainly captured the underlying sentiment regarding Rousseff's chances, and thus the trading in the real," said Sacha Tihanyi, a senior emerging-market strategist at TD Securities in New York. "But the BCB is not overly comfortable with the pace of gains in the real, which became extremely obvious on Tuesday when it massively incremented its reverse swap auctions."
The cost of insuring Brazilian bonds in the credit-default swaps market for five years fell for a fifth day. Swap rates on the contract maturing in January 2017, a gauge of expectations for interest rates, were unchanged at 13.65 percent.
Before it's here, it's on the Bloomberg Terminal.
LEARN MORE