Brazil Government Attempts to Block Impeachment in Top Court
by and
Supreme Court will hold special session to rule on appeals

Opposition argues Rousseff broke the law by masking a deficit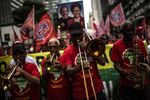 Brazil's government is attempting to block efforts to impeach President Dilma Rousseff by asking the Supreme Court to annul the process in Congress and suspend a key vote scheduled for Sunday.
The Supreme Court will hold a special session later on Thursday to rule on a number of appeals against Rousseff's impeachment filed by Brazil's attorney general and government allies, the court's president Ricardo Lewandowski said.
In one of the appeals, Attorney General Jose Eduardo Cardozo argues that the impeachment process was flawed and the administration didn't receive the right to a proper defense. The opposition's argument that Rousseff broke the law by trying to mask a growing budget deficit doesn't offer the justification needed to remove her from office, according to his filing.
"I'm fighting for justice here," Cardozo told reporters in Brasilia.
Lower house speaker Eduardo Cunha, who accepted the impeachment request in December and has led much of the process so far, didn't immediately respond to a request for comment on Cardozo's allegations.
The legal motion comes as political analysts including Joao Augusto de Castro Neves at consulting firm Eurasia Group say that odds are increasing Rousseff will lose the impeachment battle. The government this week failed to prevent key partners from abandoning the ruling alliance to side with the opposition seeking her ouster.
Cardozo's strategy could buy the government time to shore up support. But Oscar Vilhena, director of FGV Law School in Sao Paulo, said it's a risk because Supreme Court justices have signaled they're reluctant to interfere with Congress on the issue. A defeat would give impeachment an added air of legitimacy, just as the government is trying to paint it as an attempted coup, he said.
Other Appeals
Earlier this week as Supreme Court judge, Luiz Edson Fachin, said the judiciary should avoid getting involved in procedural issues regarding impeachment, newspaper O Globo reported.
Three other injunction requests were filed by the government's deputy leader in the lower house, Paulo Teixeira, and by allied lower house deputies Weverton Rocha and Rubens Junior, according to the Supreme Court's press office. Another appeal questioning the constitutionality of impeachment was filed by Brazil's Communist Party, or PC do B.
The lower house is scheduled to vote Sunday on whether to proceed with impeachment and send the case to the Senate. If a simple majority of the upper chamber agrees to try the president, she must step down for as long as 180 days as legislators debate the case. The Senate then would need support from two-thirds of its 81 members to impeach the president and terminate her mandate.
Before it's here, it's on the Bloomberg Terminal.
LEARN MORE