Australian Unemployment Falls to 2-1/2 Year Low; Rate Bets Drop
by
Report shows 26,100 jobs added as part-time roles surged

RBA interest-rate cut bets for May meeting decline to 16%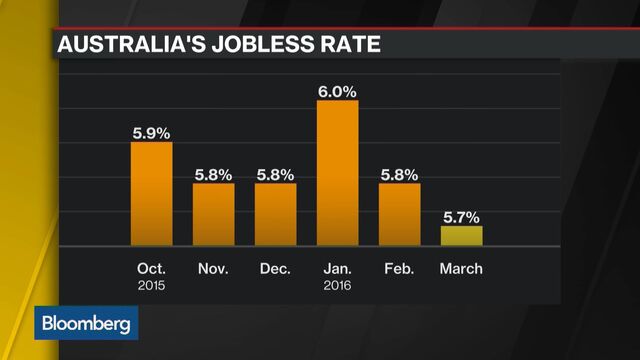 Australia's jobless rate unexpectedly fell to the lowest level in two-and-a-half years in March, reflecting a lift in business confidence and signaling the central bank is unlikely to ease policy in the near-term.
Unemployment dropped to 5.7% from 5.8%; economists predicted 5.9%
Employment rose 26,100 from February; economists forecast 17,000 gain
Full-time jobs fell by 8,800; part-time employment rose by 34,900
Participation rate, a measure of labor force as a share of the population, held at 64.9%; economists predicted 65%

The stronger labor market is a boost for Prime Minister Malcolm Turnbull, who is struggling in opinion polls in an election year. It's also further evidence that record-low interest rates are aiding a revival in industries like construction, tourism and education as a resource boom winds down. Still, the outlook for business investment remains weak and the outlook is clouded in China, Australia's biggest trading partner.
"There's clearly a trend now of a stronger labor market than many analysts were allowing for, which is consistent with other positive economic indicators," said Shane Oliver, head of investment strategy in Sydney at AMP Capital Investors Ltd. "Any hope of an imminent rate cut is well and truly out the window on the back of these figures."

The Australian dollar surged as high as 76.65 U.S. cents immediately after the data, from 76.35 cents before its release. It relinquished the gains to trade at 76.45 cents at 12:20 p.m. in Sydney. Traders are pricing in just a 16 percent chance of a rate cut next month, less than half the level of bets two days ago.
Data released in March showed the economy grew 3 percent in the final three months of last year. That jibed with a surge in employment in October and November, though the scale of the increases at the time drew renewed skepticism about the accuracy of the labor force data, which the Australian Bureau of Statistics has acknowledged in the past.
"Underlying labor market conditions remain solid even if not as strong as in 2015," said Justin Fabo, senior economist at Australia & New Zealand Banking Group Ltd. "This will keep the RBA on the sidelines even if inflation prints 'low.' " Inflation data for the first quarter is due out in just under two weeks.
China Impact
Australia is grappling with the fallout from weaker prices of its key commodity exports as Chinese demand eases and newly-opened mines boost supply. The Reserve Bank of Australia cut its benchmark rate to 2 percent in May last year and the currency had been on a downward trajectory until mid-January, providing further assistance to exporters.
At a state level, employment gains were surprisingly led by Western Australia, center of the nation's mining industry, adding 16,600 jobs. The southern state of Victoria, which has experienced a residential construction bonanza, was next with 10,600. New South Wales, enjoying its own housing boom, had the third-largest increase with 4,800. Queensland, which also has extensive mining, led the falls, losing 15,500 jobs. 
Turnbull's government has fallen back in opinion polls and now trails the opposition Labor party as it struggles to establish an economic narrative following a watering down of tax reform that the prime minister had said was needed to underpin growth. The challenge now is to gain momentum ahead of a possible early election in July and Thursday's jobs report will aid that cause.
Meanwhile, Australian policy makers' task of navigating the economy to a post-mining future has been complicated by financial turmoil in China and global monetary policy running at cross-purposes -- from negative rates in Europe and Japan to the start of a tightening cycle at the Federal Reserve.
A further hurdle has been a rebound in the Aussie, which climbed more than 7 percent in March to be the best performer in a group of 10 major currencies that month. RBA Governor Glenn Stevens, in his statement following the April 5 decision to leave rates on hold, warned: "an appreciating exchange rate could complicate the adjustment under way in the economy."
Before it's here, it's on the Bloomberg Terminal.
LEARN MORE