Worried About Russia's Economy? Call Putin on His Hotline
by and
President holds annual `direct line' phone-in with Russians

Prices, wages, social questions are top issues, Kremlin says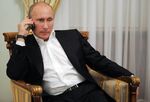 President Vladimir Putin grants Russians the chance to question him in his annual call-in show Thursday, providing an opportunity to shore up his support as the country's longest economic downturn in two decades pushes more people into poverty.
Putin will use the Kremlin-controlled exercise to show he's in touch with the public ahead of parliamentary elections in September, according to Igor Bunin, director of the Moscow-based Center for Political Technologies. The vote is Putin's biggest electoral test since he returned to the Kremlin in 2012 after unprecedented protests against his rule.
---

Vladimir Putin hosts annual marathon Q&A with Russians.
---
"In a fortress situation and at a time of crisis, this allows him to communicate with the people," Bunin said by phone Wednesday. "This is a populist format with almost everything stage-managed and that's why Putin likes it."
Last year's call-in broadcast lasted almost four hours and attracted a record 3.25 million questions, according to the official website. Putin is seeking to reassure the country as the world's largest energy exporter navigates its second year of recession. While Russians enjoyed rising prosperity during his first two presidential terms from 2000, when the economy grew at an annual average of 7 percent, the number who fell into poverty in 2015 rose by 3.1 million to 19.2 million, the most since 2006, as wages fell and the ruble tumbled following the collapse in oil prices.
Elections, Economy
People chosen for the studio audience that's also part of the live show were given instructions and training after being gathered at a hotel outside of Moscow since Tuesday, the RBC daily reported Thursday, citing people close to the organizers. Questions were screened and dozens of people selected to pose them to the president from among hundreds of participants, it said.
While Putin's personal ratings remain above 80 percent, the government and regional authorities are becoming targets of popular discontent. A January survey by the Levada polling company showed that only 45 percent of Russians believe the country is on the right track, the lowest in two years.
Parliamentary elections in September begin a new electoral cycle that will culminate in the 2018 presidential contest, when Putin can seek a fourth and final term under the constitution.
The Bank of Russia sees the economy contracting by as much as 1.5 percent in 2016 and it won't grow faster than 2 percent a year after that without economic reforms even if oil prices recover to $100 a barrel from around $45 currently, central bank Governor Elvira Nabiullina said Tuesday.
Prices, Wages
Questions on social issues and the economy dominate the more than one million questions Russians had submitted by Wednesday morning via a call center and a website, Putin's spokesman Dmitry Peskov told reporters on a conference call. The public is especially worried about rising prices and unpaid salaries, while the ruble's exchange rate isn't high on their list of concerns, he said.
That's probably just as well. Putin assured Russians during his 2015 show that the ruble would rebound from a 30 percent slump over the previous year because the country's economic problems had "passed their peak" while oil had stabilized. Russia's main export earner instead continued its freefall and sent the currency plunging 20 percent since Putin's prediction on April 16, 2015.
Police detained a worker from the Vostochny cosmodrome on the eve of the show, the opposition Novaya Gazeta newspaper reported Thursday, citing the employee. He'd been planning to take part in a protest with others building the space-launch facility to mark the anniversary of their appeal to Putin during last year's event over unpaid salaries, it said. Although Putin promised to deal with the issue, the back wages still haven't been paid, the newspaper said.
'Trump Card'
Russians are showing support for Putin's foreign policy in their submissions this year, Peskov said. Putin ordered a partial withdrawal of Russian forces from Syria in March after more than five months of airstrikes in support of President Bashar al-Assad against Islamic State and other militants. Tensions continue with the U.S. and the European Union, which imposed sanctions against Russia over its involvement in the conflict in Ukraine.
Among questions posted on the event's website, one Russian asked if the government will increase pensions of military veterans in line with inflation, while another wanted to know why indexation of pensions for people who were also still working has been halted. "Does the government really need our every kopeck?" the questioner asked, referring to the smallest denomination of the Russian currency.
The authorities have "only one trump card and that's the president," while Putin's perception of himself has changed during his long rule, Bunin said. "If before he regarded himself as a manager, now more and more in the elite call him the sovereign."
Before it's here, it's on the Bloomberg Terminal.
LEARN MORE