Will Millennials Want to Go Shopping With Facebook Messenger Bots?
Facebook's vision of purchases enabled by chat bots might be a tough sell.
By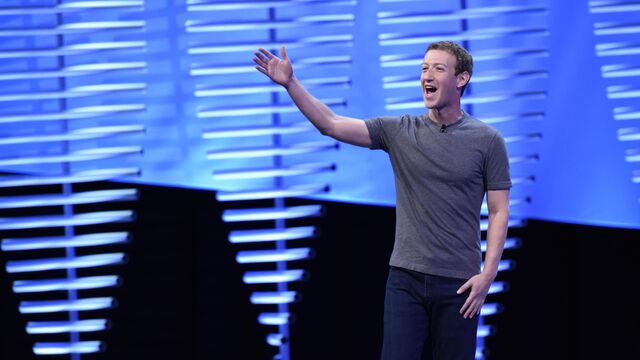 Here's a vision of the Facebook shopping future: You're chatting with a friend on the company's Messenger service about plans to go to a concert, and one chat bot chimes in to offer help purchasing tickets while another hails a car service.
Speaking at the company's annual F8 developer conference on Tuesday, Facebook Chief Executive Mark Zuckerberg envisioned Messenger's more than 900 million users turning to this bot-enabled purchase model. If successful, the model would essentially eliminate the need to open a third-party app for a broad range of transactions. It's understandable why Facebook wants to control more of the multibillion-dollar e-commerce market, but there's no guarantee shoppers will share the enthusiasm.
In fact, an arguable predecessor to Messenger's sales bots didn't find much success with shoppers. The Facebook "Buy" button, first tested in 2014, was meant to get users to "purchase a product directly from a business, without leaving Facebook," as the company described it at the time. It never reached mainstream use or popularity, and only about a third of millennials said they were likely to use the button, according to the Center for Marketing Research at the University of Massachusetts, Dartmouth.
Although the majority of America's millennials use Facebook, their approach to online shopping is systemic and drawn out, not necessarily in line with the immediate call-to-action button. "The average millennial might look at as many as 10 reviews to make a purchase," said Nora Ganim Barnes of the Center for Marketing Research. "Is Messenger going to work to do that? I don't think so. I think it's missing too many pieces that people have come to rely on and enjoy."
A well-curated retail experience online requires a hefty amount of information. "There's just a lot of questions that a customer is going to have," explained Sucharita Mulpuru, a retail analyst with Forrester. "These are technology companies. They aren't merchandising companies."
It will be easier for sales bots on Messenger to interest users in services, rather than physical items. Think car services, hotel rooms, or even bouquets of flowers—something Zuckerberg demonstrated purchasing with help from a bot during Tuesday's presentation. Trying to find a T-shirt in the right size, color, and fit, on the other hand, would involve a lengthy back-and-forth with a bot.
"I think it could be a real product, but it would have to be less-considered products," eMarketer retail analyst Yory Wurmser said of bot-induced purchases. "Stuff like from the [Amazon] Dash button I could see working with Messenger pretty easily. I think some of the more considered purchases could eventually work there, but the AI will have to get pretty sophisticated. To get people to use this, it's a new platform, there has to be something better than the existing platform." Mulpuru suggested movie tickets and media as good products for the bot-based sales.
Facebook is, of course, optimistic that the bot feature will be used for a variety of items. "We envision businesses and developers building all sorts of things," a Facebook spokesperson said in an e-mail. "One of the reasons we opened up the platform is to find out what people build, and we're excited to see the outcome."
As for whether Messenger is truly better than using a third-party app remains to be seen. The software powering chat bots has made strides, but the app-based platforms have already spent countless hours honing the user experience. When it comes to ordering a ride from Uber within Messenger vs. the company's stand-alone app, Wurmser estimates it would save the user about 10 seconds. "Is that enough of an efficiency game? I don't know. That's an open question," he said. "That might be enough." He remains bullish on the concept, particularly as a way to improve customer-service interactions. 
Mulpuru is not convinced. "When I've talked to people in the Messenger world describing the use cases, they're so convoluted and silly. It makes no sense," she said. "It's like, 'Imagine you're at a conference and trying to plan to go to dinner with someone, you can order an Uber on the Messenger while you're having a conversation.' Really, that's the best case scenario you can think of?" Mulpuru noted cars are often hailed while the user is alone or already with friends and pointed to the seamless Uber app experience. 
"They built out the capability," she said of Facebook, "but they don't really have a use case for it."