Germanwings Crash Families Sue Lufthansa U.S. Flight School
by
Where to litigate over a crash in France of a German airliner?

Aviation disaster attorney aims for big damages in Arizona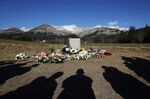 Eighty families of those who died in last year's Germanwings crash that killed 150 people when a jet was deliberately flown into a French mountainside are looking to a U.S. court for justice.
For the passengers' loved ones left behind when Andreas Lubitz committed suicide by flying a Lufthansa-owned Airbus A320 into a French mountain, U.S. District Court appears to be the best venue for the kind of robust damages they say could force the airline to change its medical-screening practices.
German law precludes the kind of punitive awards common in America, and the same kind of pretrial information sharing, or discovery, in civil actions. That's why a New York law firm that specializes in aviation disasters is focused on a Lufthansa-owned flight training school in suburban Phoenix.
The families, mostly from Germany, sued the school Wednesday in federal court in Phoenix.
Last month, in their accident report, French authorities largely blamed medical-privacy laws -- not Lufthansa -- for allowing Lubitz to conceal his severe mental health problems from his employer. The big legal question in all this: Will a U.S. judge find reason to litigate a German airline crash that occurred in France?
'Lufthansa Chose'
"Why should the case be in the United States? Lufthansa chose the United Sates for its flight-training program," said Marc Moller, one of the plaintiffs' attorneys with the firm Kreindler & Kreindler LLP. On its website, the school, Airline Training Center Arizona Inc., says it has trained Lufthansa pilots for more than 40 years. It also has trained pilots for Dutch carrier KLM since 2013.
"Based on our information, we see no prospects of success for this course of action," Christina Semmel, a Lufthansa spokeswoman in New York, said in an e-mail. She declined to comment further on the case.
Moller said the school, Airline Training Center Arizona Inc., in Goodyear, was a "gatekeeper" for Lubitz's career as a commercial pilot and "had an obligation to investigate his medical history and his trustworthiness." After doing so, he said, the school should have "then simply said politely to this kid, 'I'm sorry, you simply can't be a commercial airline pilot. We can't take a chance, we can't put passengers at risk.'"
Moller's suit follows a similar complaint filed two weeks ago in the same court by an Australian whose wife and son were on the March 2015 flight. Moller said he expects the court will join the two cases.
Academic Coursework
Lubitz suspended the academic coursework of his pilot training in 2008 and was hospitalized for severe depression. In July 2009, he received a "special" medical certificate from German authorities to continue his training but with the condition that it would be invalid if he had a recurrence of his depression, according to the second lawsuit. Lubitz began his training in Arizona in November 2010 and finished the following March.
Both lawsuits contend that Lubitz was a suicide risk due to his history of severe depression. Lubitz displayed signs of "psychological abnormalities, reactive depression and personality disorders" during his time in Arizona and the school failed to disqualify him from further training, according to Moller's complaint.
David Katzman, an aviation attorney in Troy, Michigan, at Katzman Lampert & McClune, not involved in the case, said the suit has a respectable argument for jurisdiction in Arizona but will face "a lot of interesting preliminary questions" about whether it can proceed.
"The question is the legal duty of the school to make a determination on the mental health of an applicant or of a student," one a judge will likely decide early in the case, Katzman said. "Whether there was a breach of that duty is going to come down to the jury." He said the plaintiffs could also potentially confront U.S. medical-privacy regulations related to how much information Lubitz would have been required to disclose.
The lawsuits attempt to argue a form of "educational negligence" by the school, which allowed Lubitz to become a pilot, said Howard Bushman, a trial attorney at Harke Clasby & Bushman in Miami not involved in the case. "It's novel and it's interesting," he said of the lawsuits, adding that such cases have a spotty record of success, often because of the periods between a person's training and an accident.
Last year, as part of a corporate reorganization, Lufthansa changed the short-haul Germanwings brand to Eurowings.
Kreindler's work on airplane cases includes the 1988 bombing of a Pan Am jet over Lockerbie, Scotland; the shooting down of a Korean Airlines 747 in 1983 by a Soviet fighter; the 1996 TWA Flight 800 disaster off Long Island, New York; and the 2009 crash of a Continental plane outside Buffalo, New York, according to the firm's website.
The case is Oto v. Airline Training Center Arizona Inc., 16-cv-01027, U.S. District Court, District of Arizona (Phoenix).
Before it's here, it's on the Bloomberg Terminal.
LEARN MORE