The Coal Market Bets Everybody Got Wrong
by
Coal miner didn't expect coking coal prices to keep falling

Market was battered by cheap gas, slowing China, India demand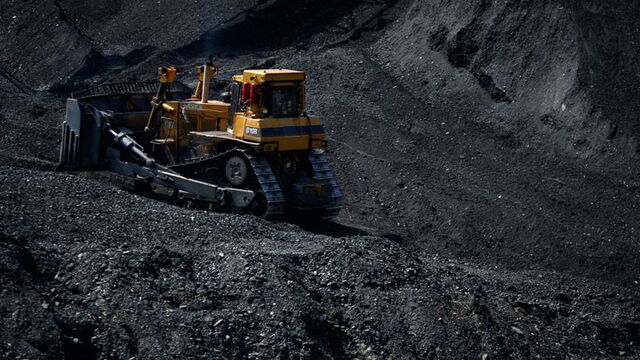 A year and a half ago, the chief executive officer of America's biggest coal miner predicted a bottom to the commodities rout that had dragged prices to their lowest level in a decade.
Peabody Energy Corp.'s Greg Boyce said in an interview at the time that the fundamentals for coal were better than some feared, that supplies would soon shrink and the industry would head into an "inevitable" rebound. Prices instead continued to slide, production remained high, and on Wednesday, Peabody said it had joined rivals including Arch Coal Inc. and Alpha Natural Resources Inc. in filing for bankruptcy.
Boyce's projection was based on a number of miscalculations that ultimately had a hand in the miner's demise. By the fall of 2014, the benchmark price of metallurgical coal had already plunged 64 percent from its 2011 peak, contributing to the closing of hundreds of mines and the elimination of thousands of jobs in the U.S. And it wasn't finished falling.
Peabody wasn't "alone in getting it wrong, but they did get it wrong," said Jeremy Sussman, an analyst at Clarksons Platou Securities Inc.
(Related: Coal Slump Sends Mining Giant Peabody Energy Into Bankruptcy)
For its part, Peabody said Wednesday that market conditions in recent years have been "unprecedented."
'Energy Recession'
"We are in an energy recession, with 50 coal companies filing" for bankruptcy in recent years, Vic Svec, a spokesman for Peabody, said in an e-mailed statement. "Like most major energy companies, Peabody often shares its views of the market outlook, and those views evolve over time based on events and analysis."
In September 2014, Peabody forecast that the fundamentals of metallurgical coal, the type used to make steel, would improve over the next two quarters. Met coal prices instead ended up falling for six straight quarters amid sluggish global demand and a strengthening U.S. dollar.

The rout came at an especially bad time for Peabody, which had borrowed heavily to finance its $4 billion takeover of of Australia's Macarthur Coal, a major producer of the steelmaking component, in 2011.
And that was only half its pain. In September 2014, Peabody forecast that annual power-plant demand for thermal coal mined in Wyoming and the Illinois Basin would increase 75 million metric tons by 2016 as those regions stole market share from Appalachia. It didn't factor in the ever-expanding glut of cheap natural gas that would eventually eat away so much of coal's share of the U.S. generation mix that it'd become the biggest source of the nation's electricity.
Gas futures have plunged 20 percent in the past year, trading at $2.015 per million British thermal units at 10:33 a.m. New York time on Wednesday.
Today, Wyoming and Illinois are producing about 30 percent less coal than they were a year ago, data compiled by the Energy Information Administration show. Last month, Peabody cut 15 percent of its staff at the country's biggest mine, the North Antelope site in Wyoming.
"Because natural gas hasn't cooperated, everything's been destroyed," said Andrew Cosgrove, an energy analyst at Bloomberg Intelligence.
One result: Peabody planned to sell 245 million to 255 million tons in 2015. It ended up reporting 228.8 million tons for the year. 

Amid the carnage, Asia -- whose demand was responsible for the coal market's last boom -- proved little help. Peabody had projected that, by 2020, India would increase its annual thermal coal imports by 90 million tons and China by 70 million. Since then, India's imports have slowed, proving "very disappointing," Sussman said. Things are even worse for China, where imports fell by more than 50 million tons in 2015 amid slowing growth and environmental regulation. 
"Peabody was expecting them to rise," Cosgrove said, "but they've gone in the opposite direction."
Forecasts still call for a rebound in U.S. natural gas prices and stabilizing coal demand, Peabody's Svec said, adding that coal is expected to remain "an essential source of global electricity generation and steelmaking for many decades to come."
Before it's here, it's on the Bloomberg Terminal.
LEARN MORE