Tesco Shares Tumble as CEO Lewis Cools Earnings Expectations
by
CEO says meeting profit estimates would be major achievement

Grocer plans continued investment to combat discounters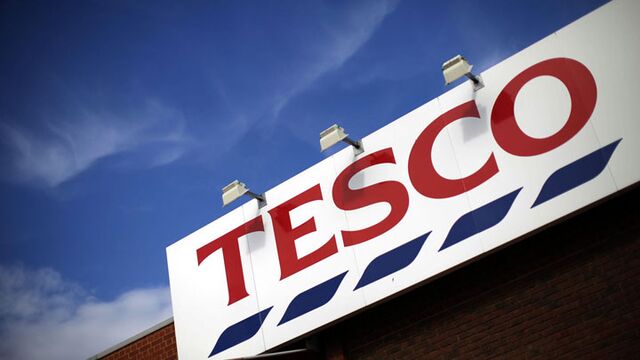 Tesco Plc shares posted their steepest drop since 2014 after Chief Executive Officer Dave Lewis struck a cautious note, saying his turnaround will weigh on profit growth this year as the U.K. grocer cuts prices across fresh food.
The stock fell as much as 7.6 percent, cutting Tesco's market value by 1.2 billion pounds ($1.7 billion), after the CEO said it would be "a significant, significant achievement" to meet analyst estimates for operating profit of 1.25 billion pounds this year. Profit growth "won't be smooth; we are in a turnaround," Lewis said on a conference call Wednesday after Tesco reported annual earnings that beat analyst estimates.
In his second year on the job, Lewis is working to get the U.K.'s largest retailer back on an even keel, putting an accounting scandal behind him and fighting back against discounters Aldi and Lidl. Price cuts and a narrower product range contributed to a 0.9 percent increase in U.K. same-store sales in the fourth quarter, the first increase since the end of 2012.
The CEO's comments on this year's earnings outlook may "rein in the market's over-optimism about how quickly trading improvements might translate into meaningful profit improvement," James Collins, an analyst at Stifel, said by e-mail.

The shares were down 6.2 percent at 184.05 pence at 2:53 p.m. in London, the biggest drop in the U.K. benchmark FTSE 100 Index. Before today, they had gained 31 percent this year on optimism surrounding Lewis's turnaround.
Farm Brands
In a further step to discourage customers from shopping at the discounters, Lewis is revamping Tesco's budget range of fresh fruit, vegetables and meat, and making them cheaper.
Last month, the retailer rebranded 76 own-label product lines under the banner of fictitious British farm names such as Boswell and Redmere. The price of a basket of so-called Farm Brands groceries is more than 15 percent less expensive than before the program was initiated, the company said.
As a result of Tesco's investment to fund the cuts, profit growth this year will be constrained, particularly in the first half, Lewis said. Tesco remains in "investment mode" and plans to increase capital spending by a quarter to about 1.25 billion pounds this year to fund improvements to U.K. stores and openings in Thailand, he also said.

The CEO made inroads into the company's debt burden last year, reducing net borrowings to 5.1 billion pounds from 8.6 billion pounds at the end of August as he seeks to eradicate Tesco's junk credit rating. Still, the retailer's credit profile is "relatively weak" for a rating that's just one level below investment grade, Moody's Investors Service said in a statement.
Lewis has ruled out further major divestments, following September's 4 billion-pound disposal of its Korean operations. Speaking on the call, he declined to comment on speculation that Tesco may consider selling U.K. assets such as coffee-shop chain Harris & Hoole, bakery brand Euphorium, restaurant chain Giraffe and garden-center chain Dobbies.
"Dave Lewis has made some tough decisions, stopped the rot and halved the decline in Tesco's market share," John Ibbotson, director of consulting firm Retail Vision, said by e-mail. "The future promises low profits and slow sales growth. But given the huge challenges Tesco faces, this performance looks little short of visionary."
Before it's here, it's on the Bloomberg Terminal.
LEARN MORE